GBM InkShow: Inking in Windows 7 pre-Beta Build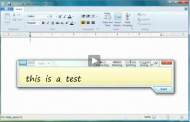 Here we go. The pre-Beta build for Windows 7 is in the hand of testers, and I'm lucky enough to have a shot at checking it out, along with several other members of the GBM Team. Rob has already posted some screenshots and to continue our exploration of the next generation of Windows, here is an InkShow that takes a look at Inking in Windows 7. Not much has changed in Windows Journal, but the Tablet Input Panel has undergone quite a bit of work. There is also a new version of Sticky Notes. I've loaded the pre-Beta build on the Lenovo X61, and the clean install took about an hour and a half.
Download the high res version here.

All GottaBeMobile.com InkShows are sponsored by TechSmith.

As an Amazon Associate I earn from qualifying purchases.