GBM InkShow: Inking on the iPad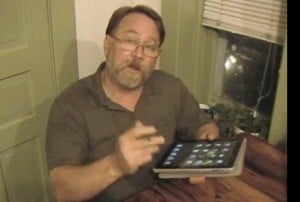 First up, before I get to the subject of this InkShow, thank you from the bottom of my heart and from my family for all the kind wishes, prayers, and support the GBM community has offered on the occasion of the passing of my Mother. She's at peace now and our family is slowly starting to re-surface from the events of the last week. In the week before her death I had filmed this InkShow, but obviously other events took precedence.
Now, on to the InkShow. I take a look at some of the Inking Apps available for the iPad. These include Penultimate, FastFinga, WritePad, MobileNoter, iNapkin2, Noterize, and NoteTaker HD, as well as a few others. For me I've made no secret that Penultimate fits my note taking needs on the iPad best of all, and that is still the case.
There are really several different categories of these apps. Penultimate, Noterize, and Note Taker HD all have some from of wrist protection or palm rejection that makes taking notes easier. WritePad is an excellent tool for those who need and use handwriting recognition. MobileNoter allows you to use your OneNote note books on the iPad and go back and forth. The rest offer less in my view, but depending on your needs might just fit what you're looking for.
We're still a long way, (if ever) from seeing any sort of comprehensive digital note taking App similar to OneNote. The Evernote folks many months ago promised Inking was coming, but I think that's a back burner update just like Digital Inking is for most who adhere to common wisdom. I tip my hat to all of the App developers who are working to make the iPad a Digital Inking note taking device, regardless of how well or not their Apps may work for me. Taking notes is a personal experience and the fact that there are choices available make it more than likely that you'll find one that comes close to fitting your needs.


As an Amazon Associate I earn from qualifying purchases.