GBM InkShow: Lenovo ThinkPad T400s with Multi-touch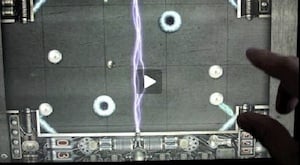 A few weeks ago I asked if you would use a clamshell style notebook with a touchscreen display. The responses were very favorable to the idea and I finally got a chance to try out just such a machine. Lenovo was kind enough to send over a pre-production ThinkPad T400s for us to play with and I recorded a video of my first experiences using it.
The ThinkPad T400s is a thin and light 14″ notebook that weighs just under four pounds. It does carry a premium compared to the T400 and the touchscreen is a $400 option. The touch-enabled T400s is about half a pond heavier and .8″ thicker than the standard T400s.
The optional touchscreen can recognize up to four fingers at a time. This allows users to manipulate 3D objects in applications like SpaceClaim.
GottaBeMobile InkShows are sponsored by Mobile Demand, a company that makes rugged Tablet PCs like the xTablet T8700
The ThinkPad T400s came with Microsoft's Touch Pack and a utility called Simple Tap. This program allows users to control several of the system's functions with touch. You can reshuffle the layout of Simple Tap and add icons to launch applications.
I think having a touchscreen on any notebook is a good thing, but there are a couple of challenges.
The technology is cool, but after playing with Touch Pack, Collage and Simple Tap I wanted to find something a little more productive to do with my four fingers. Unfortunately there just aren't that many applications that support multi-touch in Windows 7. I hope that software developers and web publishers will find more ways to cater to touch users.
With an iPhone or tablet the touchscreen is stationary against your hand or whatever surface you're working on. All-in-one PCs with touch displays are also stationary. If you tap too hard on a notebook's display it will move backwards or lift the front of the machine off of your desk.
The ThinkPad T400s is an impressive machine and the touchscreen is very smooth and easy to operate. If you're going to fork over $400 for this option you should have a solid plan for how you'll be using multi-touch.