GBM InkShow: MindManager 8 Video Review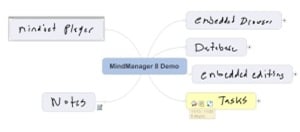 Mindjet's MindManager has been an indispensible tool for many folks over the years, and with tablet pc support added in version, it took brainstorming and mapping to a whole new level. MindManager 8 continues to break new ground for the mind mapper.
Video review and much more after the break.
With version 8 released earlier this week, Mindjet has made it easier to stay in that critical ""brainstorming mode" by keeping you in MindManager while editing documents and doing web research. New features like the embedded browser, web services, integrated document editing, database management, and task management make version 8 a very worthwhile upgrade. In addition, the new Mindjet Player, which adds an interactive map to a shareable PDF, makes sharing your maps even easier for your colleagues that don't have MindManager.
As good as these improvements are, it feels like the Tablet PC support has been frozen in time since version 6, though. In my video review, I show areas where Mindjet did not think of the Tablet PC user at all, and in fact, still have the same bugs that have been reported for several years. Where's the Tablet PC love Mindjet? If you feel the same way I do, let Mindjet know here.
As I show in this video review, though, version 8 is still a very worthwhile upgrade, and I can't recommend it enough.
All GottaBeMobile.com InkShows are sponsored by TechSmith.

As an Amazon Associate I earn from qualifying purchases.