GBM InkShow: The Lenovo X201 Tablet PC Refreshed and Refreshing (Video)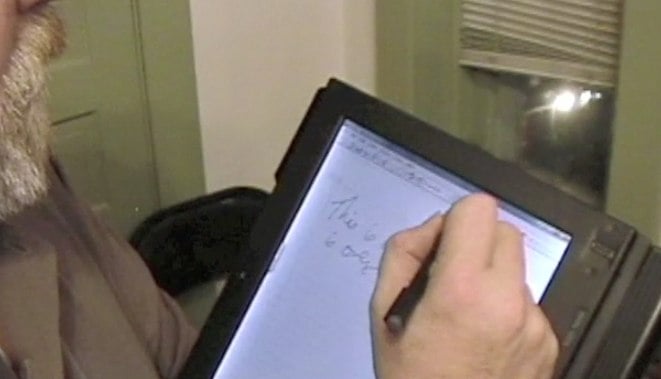 After spending some time with the Lenovo X201t Tablet PC I can say it feels like coming home again for this Tableteer. I got to evaluate its precursor, the x200t, and enjoyed it immensely. Given that the X201t is basically a processor refresh, that same enjoyment of the Tablet PC experience is there wrapped up in all of the Lenovo goodness we have come to expect.
The refresh is mostly on the inside, as Lenovo has moved to the latest generation of Intel processors, the Core I7. There is a noticeable jump in speed. In fact, I can say this feels like one of the fastest notebooks (much less a Tablet PC) that I've used. The other major new "feature" is the addition of a trackpad. Trackstick or thumbstick lovers don't be disheartened. You know have both a trackstick and a trackpad to manipulate your fingers with. Of course you can turn one or the other (or both) off if you have a preference.
The Lenovo build quality is still there as is the attention to detail. You've got the usual array of buttons and keyboard options to work with both in notebook mode and in slate mode. I'm a lover of Lenovo keyboards, and I know many readers here are as well.
As to the having both multi-touch and pen available, this works as well as it did in the X200, so I've got no complaints there. It is two-fingered multi-touch only, and in all honesty I think that's all you need on a device that also allows Inking with a stylus. The Inking is as smooth and as steady as ThinkPad Tablet users are accustomed to. In fact, I always love Inking on a ThinkPad Tablet. It just feels right.
I've stated before that Lenovo with its ThinkPad Tablet PC line and HP with its Elitebook Tablets are the top of the line when it comes to full feature Tablet PCs. We haven't seen HP's refresh of the 2730p (the 2740p) yet, but I anticipate good things there. That will give us  two top of the line Tablet PCs on the market at a time where the tech world is Slate crazy.  (I'm not discounting the others-but they don't seem to care about sending review units these days so it is tough to compare.) The jury is still out on slates and what they will eventually mean for those of us who think that a Tablet should have Inking as a core feature. Until we see what's what in slate land, we've at least got two OEMs who do understand that Inking is important. While the refresh the the X201T might feel like a small jump, I'm guessing Lenovo, just like everyone else is playing wait and see when it comes to the future of Tablets.
Is the x201t worth an upgrade from the x200t? That's your call, but in my opinion the differences are not that significant. In the Inkshow I compare it to moving from the iPhone 3G to the iPhone 3GS. While there were some new features on the 3GS, the biggest gain was a speedier iPhone. Otherwise, if you were comfortable with the 3G there was really no reason to upgrade. The same may be true here, but that depends on you. That said, if you're a generation or two behind in Tablet PC hardware or just looking for new one, the x201t is tough to beat and it certainly will give you everything you're looking for in a full-fledged Tablet PC.


All GBM InkShows are sponsored by MobileDemand