GBM InkShow: The Solio Hybrid Solar Charger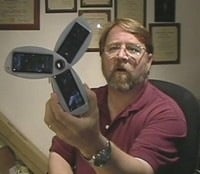 We all spend time looking for charging solutions and extra juice for our mobile devices. Whether that be a search for an AC outlet, a portable charging solution, or just lugging around extra batteries it is something we all think about. And of course these days, finding a solution that is also environmentally friendly is always a plus. The Solio Hybrid Solar Charger will offer mobile warriors some help on both fronts and I really enjoyed the opportunity to check out this product for this GBM InkShow.
As the name says it is a hybrid charger that will allow you to fill up the very light and very portable charger with either juice from the sun or from an AC outlet. According to the manufacturer, Better Energy Systems, one hour of sun will give you up to 25 minutes of additional talk time on most phones. That claim proved accurate in my testing. The Solio will charge your small gadgets inlcuding cell phones, PDAs, mp3 players, cameras, bluetooth headsets and the like, and again, according to the product info, when fully charged it can juice up a phone or iPod Nano at least two times.
What I'm most impressed with is that the device is so small and lightweight that for an on-the-go charging solution it can offer a nice alternative to traditional methods. There are several different Solio solutions available at prices ranging from $79.95 to $99.95.
Check out the InkShow for a quick tour of the Solio Hybrid Solar Charger.
Watch or download the High Res version.(13:12 minutes, 100mb, Windows Media streaming or direct download)
Check out The Solio Hybrid Solar Charger.
Thanks to Better Energy Solutions and The Conversation Group for allowing me to check out the Solio.
Enjoy!
All GottaBeMobile.com InkShows are sponsored by:

As an Amazon Associate I earn from qualifying purchases.