GBM InkShow: Toshiba M700 Tablet PC Overview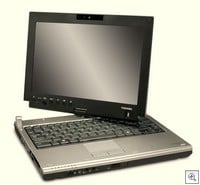 Over the last week I had the pleasure of having the new Toshiba M700 Tablet PC. In the past I have owned 2 Toshiba Tablet PC's. My first Tablet PC was the Toshiba M4, I purchased that because of the dedicated graphics card of 128 meg, it was the best on the block back then. The next Toshiba I owned was the M400 – another powerhouse but without the dedicated graphics. I was very happy with the M400 and would probably have it still today if it wasn't for the long term eval I currently use. I'd like to give Toshiba a big thanks for sending us this unit for our hands on look and review!
The Toshiba M700 Tablet PC keeps that 'powerhouse' feeling alive. With the ability to have up to a 2.6 Core 2 Duo processor, this thing will scream! The only thing missing is the dedicated graphics card, but that isn't common in any Tablet PC these days… Join me as I take in the M700 in this InkShow. I first start out by looking over the outside of the unit, then the keyboard and scree, the latch/swivel mechanism and then look at the screen and the inking.
Enjoy the 26 minute look at the Toshiba M700 Tablet PC with me in 2 different ways
1. Click the embedded link on this page
2. Download the video right to your machine (187meg download)

As an Amazon Associate I earn from qualifying purchases.