GBM InkShow: Windows 7 Running on a LS800 Tablet PC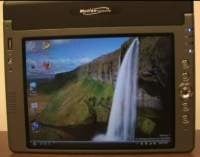 When Microsoft announced that Windows 7 would be able to run on cpu, memory, and resolution challenged devices like Netbooks, I couldn't wait to give Windows 7 Ultimate a try on a old, and cpu challenged, Tablet PC: Motion Computing's  three year-old LS800 Tablet PC running a 1.2 ghz Intel Pentium M processor, Intel 915GMS chipset, 1 gb of RAM, and a 1.8" 30 gb 4800 RPM hard drive.
The install went without a hitch — automatically downloading needed driver updates, except for button drivers that I got Motion's support site. This was a clean Windows 7 install (no upgrade) and the harddrive was freshly formatted. The result: a decently performing 8.4" slate tablet pc with only 380 mb of consumed memory and about 50 running processes! Heat output is on a par with an XP install and I never hear the fan running. Wonderful work, Microsoft!
In this video InkShow, I demo inking, launching a game, Journal, Sticky Notes, browse the web, go in to stand-by, and more. I did launch up Media Center off camera, and no surprise — it wouldn't run. I had to force a shut down in order to recover. Besides a few minor video overlay issues and the Media Center problem, I am pretty impressed. Needless to say, I'm one very happy Windows 7 slate Tablet PC user!
Correction: I make a mistake in the video saying the processor was a Core Solo. It is a Pentium M.
Windows Experience Index:
Overall: 1.0, Processor: 2.7, RAM: 4.1, Graphics: 1.9, Gaming: 1.0, Hard Disk: 3.4
All GottaBeMobile.com InkShows are sponsored by TechSmith.