GBM iPad Series: Docks and Keyboards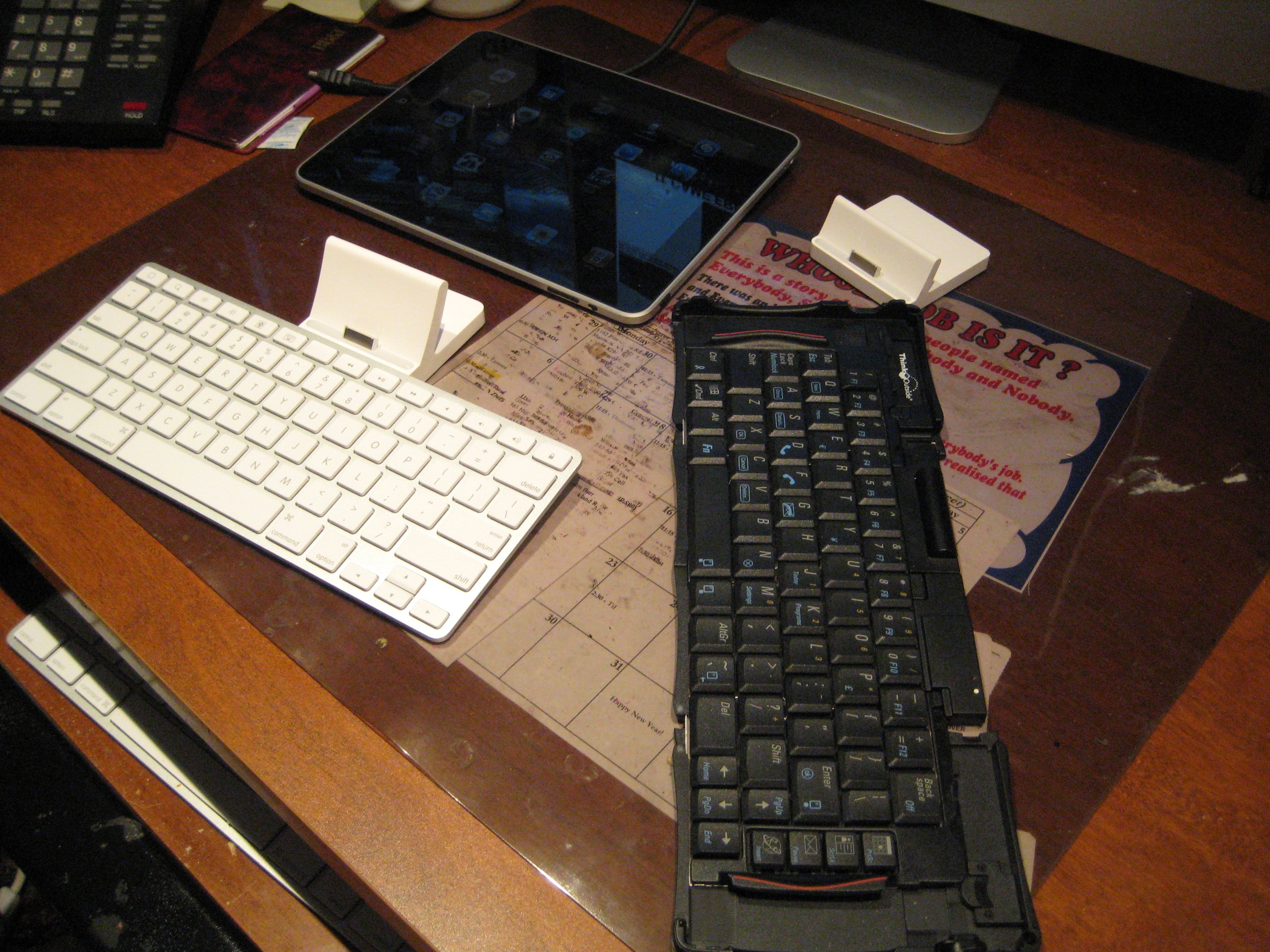 I have to admit I was somewhat surprised when Apple began the "magical and revolutionary" tour by also announcing a keyboard dock. I mean if you're going to transform us all into touch and go wizards, why (besides making money from those who are skeptical) would you offer a keyboard dock? That thinking was tempered when Apple also unveiled its iWorks suite of apps and then it all made sense. While the predominant thinking is that the iPad is consumption device, somewhere deep in side Apple's planning are efforts to make it a device for creating content as well.
I didn't order a keyboard dock, and I've shied away from Apple's BlueTooth keyboard as I still have an iGo Stowaway Bluetooth keyboard and was hoping that it would indeed work with the iPad. It does, so I feel like I got lucky there. (The Stowaway is sadly discontinued by the way.) But I did order one of Apple's small docks for the iPad. If you're going to use a keyboard you're going to want to have a dock or a stand of some kind.
Of course if you're using either the Apple keyboard dock or the Apple dock, you're going to be working in portrait mode as both docks connect via the dock connector and also give you two ports on the back. One allows you to sync up with your computer or to run power to the device, the other is line out dock.
My good friend, and our stage manager at Wayside Theatre has ordered a 3G iPad and is of course still waiting for its delivery later this month. But she also ordered the keyboard dock and that came in yesterday. Given that she has no iPad to play with, she allowed me to check it out and I did.
What you may have read from others is true. The keyboard dock is not something for easy traveling. Because the dock is attached to the keyboard and doesn't fold up in any way, you've got this odd shaped device to deal with. As for typing, well the keyboard itself works well and the keys are nicely laid out. That said, there is a slight wobble when you're working with the iPad in place that at times can be disconcerting. Everything is connected together so when you press on they keys, the iPad wobbles a bit. Both the iPad dock and the Keyboard Dock have a surface on the bottom that keep them from sliding easily. This is a good thing. If you ask me though the iPad in the iPad Dock feels a little sturdier than it does in the Keyboard Dock.
Of course the very portable iGo Stowaway Bluetooth keyboard folds up into a compact size and drops handily into a bag. You get some shimmy there as well because of the collapsible nature of the keyboard, but at least your iPad isn't shaking with it. You might want to check out this InkShow of the Stowaway Keyboard in action from a few years ago. I'm sure we'll see other Bluetooth keyboard options materialize over the coming months and I'm guessing some of those will be collapsible as well.
Either of these is a workable solution and I would think any Bluetooth keyboard would serve you well. I'm glad that Apple is letting other keyboards connect up via Bluetooth, and surprise, surprise we're hearing that will also be the case with the iPhone when the 4.0 OS rolls out. So, it looks like my Stowaway won't be stowed away that much anymore.
Other Posts in This Series

As an Amazon Associate I earn from qualifying purchases.