GBM is first in line to get the new eo i7200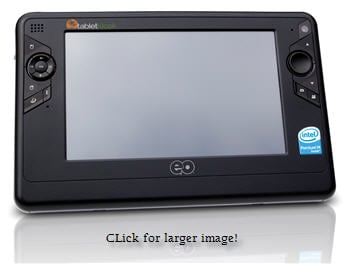 Dennis should be getting his new TabletKiosk eo i7200 Ultra Mobile PC / Origami sometime next week as he was the very first one to place an order when TabletKiosk announced the new eo on August 1. We knew when TabletKiosk told us about this new eo, we wanted one bad, and Dennis jumped right on it minutes after the announcement was made. I haven't even told Dennis this yet, but I ordered one several weeks ago for my wife as well. As far as UMPC's go, the new eo appears to offer the most features for the money.
Look for an InkShow review and Dennis' quick thoughts shortly after receiving it. I'm sure he'll be posting away and giving us all the details the minute he receives it.

As an Amazon Associate I earn from qualifying purchases.