GBM Podcast #42: Hardware, Hardware, and More Hardware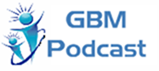 Better late than never. That can be said for Dell finally entering the market this week, and the fact that this podcast is a couple of days late!

In Podcast #42, Warner and I sit down to chat about Toshiba's M700 Tablet PC, Dell's Latitude XT Tablet PC, the impact that Marc Orchant has had on our lives and work, and also say congratulations to Mickey Segal, our November Forum Member of the Month.
Here are the show notes:

This article may contain affiliate links. Click here for more details.