GBM Review: The Lenovo ThinkPad X200 Tablet PC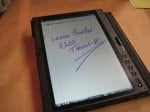 Let's just say that Lenovo continues to get it right with Tablet PCs, and that the Lenovo ThinkPad X200 Tablet PC is a real winner and call it a day. The reason? It is a winner.
Oh, all right, I'll go ahead and do the review because while I am enthusiastic about the X200 there are a few issues with this Tablet PC. I write these reviews from within the perspective of my usage scenario, which may vary considerably from yours. I do a lot of note taking with the pen, a lot of writing at the keyboard, and like my Tablet PCs to be capable of crunching some video and audio files for GBM.   Keep that in mind as you read along. I also encourage you to check out the other posts in the Lenovo/HP Tablet PC shootout , as well as Rob's Lenovo/Dell Tablet PC Shootout posts.
Lenovo scored big time with the ThinkPad X60 and X61 Tablet PCs, both of which were a decided step up from the x41. Beyond the screen size we are not seeing such a large jump with the X200, but Lenovo continues to offer users an excellent Tablet PC experience while raising the bar for the convertible Tablet PC form factor. It is an excellent combination of power and mobility. I've been using a ThinkPad X61 for sometime now and have really enjoyed that Tablet PC experience as well as the overall functionality of the X61 as a notebook. Although I'm disappointed that there is no high res screen option for the X200 (as well as other later models from other OEMs), I would have absolutely no problem moving to Lenovo's latest. In fact after evaluating this X200 model I would look forward to it.
Keep in mind an important caveat as you read through this review. The evaluation unit I am testing may have different software, BIOS, and other adjustments than what will be shipped. That's the price we pay for being able to evaluate these new machines so we can pass on info to you as best we can. With that in mind, here are my thoughts.
Form Factor and Design
The most obvious changes in form factor is the move to a wide screen format and how the screen fits into the bezel. Beyond that, the classic and familiar matte black Lenovo ThinkPad look is present and will be very comforting to ThinkPad users. Lenovo is proud of the ThinkPad's sturdiness, and while it isn't what I would called a rugged PC, it can withstand the punishment of every day use. I'm a big fan of the form factor as it feels sturdy in my hands, yet it feels light enough to me for carrying it around as I do in my workflow. Listed as weighing 4.2lbs with the 8 cell battery, it is certainly not the lightest Tablet PC out there, but again, for my use I don't have an issue here. Others may disagree and the mileage certainly varies depending on personal preference. The hinge is strong and sturdy, and new to the X200, the quad alloy hinge will rotate in either direction.
The move to the widescreen format is something we are seeing now as a standard   from quite a few convertible Tablet PC OEMs. Of course that means that screen resolution options are reduced, which is a negative. One of the issues with the X61 Tablet PCs had to do with how the screen met the bezel. On the X61 there is a decided lip and it caused some issues with the bezel actually separating at the bottom of the screen. The screen on the X200 is flush with the bezel eliminating this issue. There is a black band around the actual screen (or writing surface) that varies in width on the unit I am evaluating, and this keeps your pen from needing to be near the bezel in any case.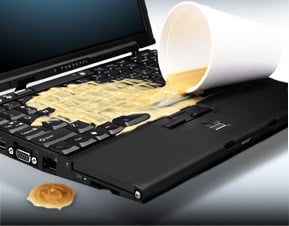 The X200 comes with the familiar track stick for navigation. There are three buttons below the space bar for left and right clicks, and a middle button that can be depressed for scrolling. I was not a fan of track sticks until I began working with ThinkPads. Now I'm sold on them and other designs have to measure up to Lenovo's implementation. Note also that Lenovo touts a spill resistant keyboard. (The picture accompanying this article is a PR still, I wouldn't try this at home and don't recommend you do either.) I'd love to hear some real world experiences (accidents?) if anyone has ever had the misfortune to spill something into their keyboard.
Overall, I wouldn't call the design of the Lenovo ThinkPads sleek or stylish but I would call it practical and functional. This approach to the design aesthetic seems to work for many given how prevalent ThinkPads are in the business world. My impression at looking at this device is that is a workhorse.
Inking and Tablet PC Features
In my opinion, the Inking ability on the X200 is excellent. That was my experience with the X61 and I'm delighted to see it continue. Now, keep in mind I am reviewing the model with the Wacom active digitizer only. There are three screen options that you can (or will be able to) purchase and one of those is what Lenovo confusingly calls multi-touch. It isn't multi-touch in terms of being able to touch on multiple points simultaneously, but it allows you to switch back and forth between touch and pen as the pen nears the screen. I don't know how that experience will relate but we hope to be able to test that out in the future. Lenovo is claiming that they've improved palm rejection here for the touch implementation, so I'm anxious to see how that works.
But back to Inking and the pen. When the pen meets the screen to Ink, It is a smooth experience, and the pen action on the screen feels very good. As Rob has reported the flush screen design leads to a some parallax (the distance between where the pen meets the screen and where the Ink shows on the digitizer). This is indeed noticeable, and I know for some this will be a big issue. I did not see this issue with the X61, and quite honestly until Rob mentioned it in his post, I hadn't really noticed it on the X200. The stylus is the same as on the X61, and a feature I really like has been retained. You can wake the unit up from sleep by removing the pen from its garage. This is a nice usability touch that I use frequently.
Lenovo's accelerometer feature includes an ActiveRotate mode that will allow you to switch the screen orientation by simply turning the Tablet PC's in your hands. Fortunately this feature can be turned off by the user. In my opinion, it leads to too many orientation switches the way I use a Tablet PC. I guess I'm just in constant motion.
The screen lid closes and is secured by a latch in either slate mode or if you are closing it completely.
Buttons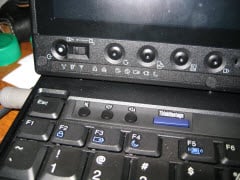 Some like buttons, some do not. I happen to be in the former category with Tablet PCs, especially when they are as well laid out on the bezel as they are on the ThinkPad Tablet PCs. Lenovo includes button controls for a number of options including screen rotation, access to the Tablet PC Shortcut Menu, an Escape button, and even a button to turn off the Tablet PC buttons. Of course there is also a power button. Lenovo actually double dips here and provides a power button on the bezel and also on the keyboard so you have two options there. On the keyboard you also have volume control buttons. I find myself using the mute button quite a bit and enjoy that as a feature. Of course the blue ThinkVantage button is also on the keyboard, which gives access to the various maintenance tasks and functions provide by the suite of Lenovo software that comes with the device. Between the buttons and start menu items, Lenovo gives you a number of choices when it comes to accessing system tools and functions. I happen to believe that options are a good thing.
Bye-Bye Nav Dial
Something Lenovo has taken flack for already is the decision not to include the Nav Dial that appeared on the earlier models. I was never a Nav Dial user, so this has not bothered me. I appear to be in a minority there, as least as far as our GBM readers are concerned. A number of them   have expressed great displeasure about this decision. This was obviously a feature that they counted on and use frequently. In my usage the Pen Flicks had really replaced the Nav Dial for me, but again, we all handle these devices very differently.
Lenovo also includes a switch on the side of the machine to turn off the radios. Again this is a feature I use all the time as I frequently turn off WiFi when I am in note-taking mode for long stretches to save on battery life.
Battery Life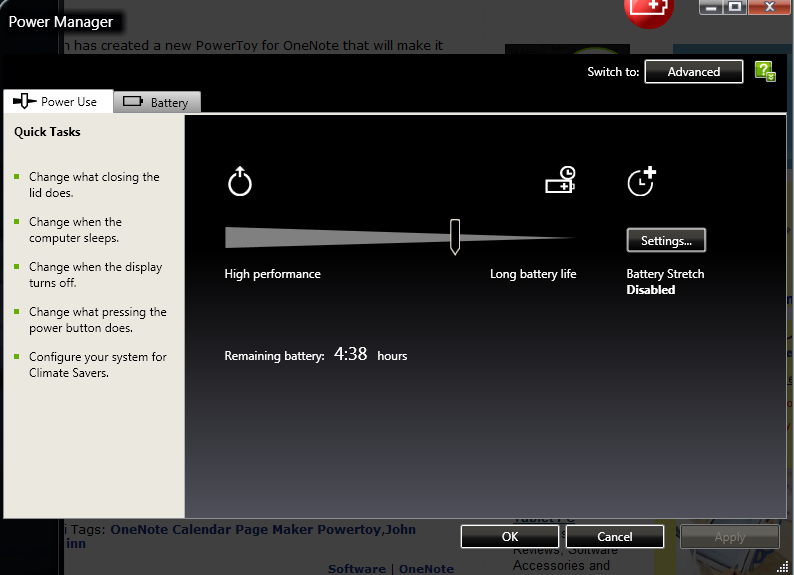 Speaking of battery life, using the Balanced profile, I'm seeing battery life over five hours with the 8 cell battery. I can't be any more specific than over 5 hours because in my testing I've seen it vary between just over 5 hours and last almost 6 hours depending on what I'm doing. I've also seen it drop to just above 4 hours as well in heavy Internet usage periods. All of my testing has been with WiFi turned on. I also think that this might (I stress might) be an instance where the evaluation unit I'm using may not be the best to judge battery life. Lenovo is claiming up to 10 hours with the 8 cell battery. I haven't seen anything like that in my testing
Screen
Bright. Clear. Nice. The backlit CCFL screen is very pleasing to look at and work with. The viewing angles are excellent. The WXGA (1280×800) display is taking me some getting used to, but I'm pleased with the layout of information on the screen in both landscape and portrait modes.
Processor and Performance
With a Intel Core2Duo LV SL9400 processor (1.86GHz), 6MB of L2 cache and a 1066 MHz FSB, this unit is an excellent performer. It has handled all that I've thrown at it with ease including some heavy duty video and audio production. It only has 2GB of RAM, and I would venture to say that adding an extra 1GB of RAM would push this Tablet PC to greater performance levels as well. You have processor options when you purchase that will range between the low voltage chips and the ultra-low voltage chips. Vista Business works very well in the configuration I'm testing, which just points up my suspicions that Intel and the OEMs just weren't ready for Vista in earlier generations. They seem to be figuring it out with this generation of chips though.
Something that can improve performance on any Lenovo machine is to eliminate apps from the suite of applications that Lenovo includes with its machines. If I follow my definition of CRAPWARE to the letter that's what some of these applications are. They duplicate some of the functionality already offered in Windows. For example, one of the first applications I get rid of is Access Connections. This duplicates the Windows networking features and is unnecessary overhead.   I understand the rationale for including these applications as a value add for customers, but in the end they eat up quite a bit of memory. On first boot up I was looking at 108 processes running.
Connectivity
Lenovo offers (or will be offering) a range of connectivity options for the X200, ranging from WiFi (a/b/g/draft-N) to WWan, WiMAX, UWB, and Bluetooth. I note that on the site, current models that can be configured offer Bluetooth as an option only and not on the base unit.
Keyboard
I am a big fan of ThinkPad keyboards. In fact they are my favorite. The keys just feel right when I am writing and I really appreciate the fuller size keys that are used in combination with the function keys. This obviously gives the device a larger footprint than some other Tablet PCs, but in my usage this is a key differentiator that puts Lenovo at the head of the class. I don't feel like I have to hunt and peck to find the key I want to press if I am going to adjust brightness or hit PrtSC.
Security
As with all OEMs, Lenovo includes a suite of security features that allow you to secure your data. The finger print reader, like others is de rigueur and works well. Since this is an evaluation unit I did not configure the encryption system so I can't comment here. Lenovo also includes options for you to disable ports at the BIOS level to protect against unauthorized access. One niggle with Lenovo here though. I wish they would include a different Anti-Virus provider. The units come with trials of Norton Anti-Virus and though I've heard Norton has improved on some of its bloatedness, I'm just not a fan of how their applications   take over a system.
Ports
You've got three USB ports to choose from, along with a multi-card reader, a PCI ExpressCard slot, VGA out, modem and LAN ports, and standard audio jacks. Lenovo has discontinued the Firewire port that came on the X61. If you order the optional Ultra-Bay Dock, it comes with a DisplayPort option as well.
Sound, Audio and Video
Lenovo beefed up the multi-media features on the X200, adding better stereo speakers and a dual array microphone. Both work excellently in my testing and are a great improvement over the X61. The sound quality is quite good, and I hardly ever raise the volume level above half way out of courtesy to others around me. Lenovo has added an optional webcam, which is becoming the norm on all mobile devices these days. With that in mind, this shouldn't be an option.
Heat and Fan Noise
This is a great improvement over the X61. The X200 definitely runs cooler and I notice the fan running far less often. It also seems to be quieter as well.
Usability and Other Features
Some may think the 8 cell battery sticking out of the back of the unit makes it unwieldy. It my way of carrying the device it gives it a good balance and is an excellent way to grab the device.
I really appreciate the Tool Box button on the bezel that allows me to access certain controls (volume, brightness, radio on/off, etc ) when I am in slate mode. Yes, it is a menu, but it works well when I want to turn off features. This can be customized, as well as the Blue ThinkVantage button and I like that convenience.
Lenovo's fingerprint reader is in the best location of any Tablet PC I've used.
Conclusions
Lenovo continues to raise the bar with its ThinkPad Tablet PC lineup. As a note taking device (my primary Tablet PC use) it is an excellent choice. Inking with a stylus works like a charm. As a notebook, it is also a winner. The X200 is a worthy next step in Lenovo's lineup and while it doesn't offer a large range of new features, the improved performance is a huge step up making this feel almost like a new class of machine. While Lenovo (as do others) offer an SSD option for your storage needs, I'll repeat what I've said before: Until the SSD price premium comes down, I'm not sure that option is worth the expense given how well this evaluation unit is performing with a 5400rpm HDD. The multi-media enhancements are excellent and will please many who want to use these devices for both work and play. Lenovo continues to offer an almost dizzying array of options for customers when they purchase and while these kind of choices are indeed a good thing, I hope Lenovo's chronic shipping woes are going to soon be a thing of the past when it comes to getting these devices in customers' hands.
Check out these InkShows on the Lenovo ThinkPad X200 Tablet PC
Check out these other posts in The GBM Lenovo/HP 2730p Tablet PC Shootout

As an Amazon Associate I earn from qualifying purchases.