GBM Shortcut: A Day in the Sun with the HP Elitebook 2760p
It's the question that gets asked of any tablet: "How's the outdoor visibility?" So I decided to answer it first with my review of the HP Elitebook 2760p, the latest version in this series of rugged business-class convertibles.
This post is one (the first) in a multi-post review of the HP Elitebook 2760p. Please click here for more (as they are posted).

For iOS-friendly downloads, click here for SD or here for 720p HD.
Screen options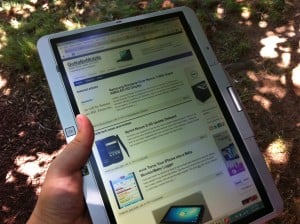 The 2760p is offered with multiple screen options that affect visibility and input. There's the anti-glare screen with pen-only input, the standard pen + touch model, and the outdoor view with pen + touch. All are 12.1″ diagonal, LED-backlit, WXGA (1280 x 800) with ultra-wide viewing angle and Wacom dual digitizer.
The model I am reviewing is the pen + touch model with no special screen treatment. As you can see in the video and photos, it holds up very well under ambient sunlight. I found this quite surprising. The backlight is less bright indoors than other tablets I've used, yet was as effective outside if not more so. The outdoor view option may not be necessary unless you work outside extensively.