GBM Shortcut: AGloves Work Well With Capacitive Touch Screens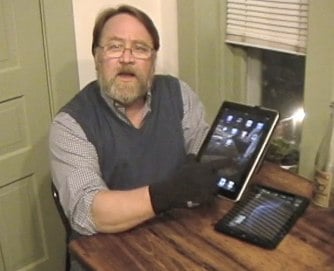 I posted about AGloves a week or so ago. Although I don't think they are actually for me, AGloves actually do work quite well with capacitive touch screens. I got sent a pair for review and so last night my lovely wife, Thomasin and I gave them a try. You can check that out in the Shortcut video.
AGloves are constructed with a silver thread running through them that allows for the necessary conductivity to make all your favorite multi-touch gesturing work. I tried this out on the iPad, the iPhone 4, and the TEGA v2. I really sense no fundamental difference in the responsiveness of the screens with the gloves on. Beyond the fact that you are wearing gloves. I don't usually unless it is bitter cold or I'm doing outdoor work, and then I'm using something heavier, but that's just my usage.
So, if you're looking to work with your capacitive touch device out of doors in cold weather, you might want to add AGloves to your Christmas Wish List.


As an Amazon Associate I earn from qualifying purchases.