GBM Shortcut: Day 3 With Ford Escape and SYNC – Voice Recognition Pt 2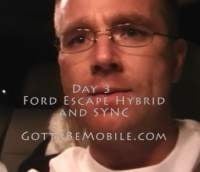 In day 3 with the Ford Escape, our family heads out to Starbucks and experiments with voice recognition and SYNC. Our results? Check it out for yourself!
Be sure to follow my other coverage on the Ford Escape and SYNC:

As an Amazon Associate I earn from qualifying purchases.