GBM Shortcut: FastFinga Inking on the iPad
I'm always on the hunt for iPad apps that turn the media consumption device into a useful productivity tool. Unlike Steve Jobs, I still believe that the pen has a place in digital note taking and computing. Many iPad apps have promised inking capabilities, and many most have failed horribly.
Penultimate is a good example of one of the top iPad inking apps. Warner Crocker has taken an extensive look at Penultimate and come away with mixed impressions. It does what it promises, but it's nowhere near the natural feel of writing on a Tablet PC. Jotting down a simple to-do list can turn into a painful, tedious task.
An inking app that presents a twist to recording your thoughts in pixelized ink is FastFinga. We've mentioned FastFinga before, but we haven't delved deeper into what it offers. Let's take a quick look at the note taking app and how it performs on the iPad.

As said in the video above, FastFinga does what it proclaims. Once you become trained to input writing between the columns at the bottom of the app, this could become faster than writing in apps such as Penultimate. It does have some other handy features such as emailing and exporting notes, emoticons, pen size and color options, undo and redo options, and a few helpful backgrounds. FastFinga is worth a look, but I'd still keep the moleskine nearby.
Additional reading:
FastFinga featured in iPad ink blogging comparison.
First looks at FastFinga on the iPhone.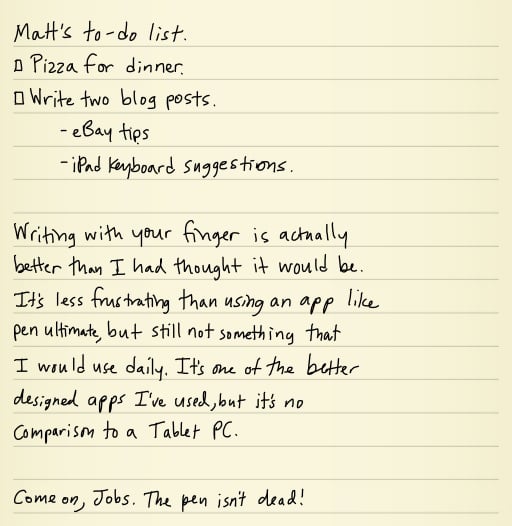 As an Amazon Associate I earn from qualifying purchases.