GBM Shortcut: HP Elitebook 2760p Webcam Challenge
Camera specs like resolution and fps are good to know but don't necessarily tell you how good the video and photo quality is. Thus, I thought it would be helpful to share some actual photo and video recorded from the HD webcam of the HP Elitebook 2760p. And I spiced it up a notch by comparing it literally side-by-side with the iPad 2. Here is the result.
This post is one in a multi-post review of the HP Elitebook 2760p. Please click here for more.

For iOS-friendly downloadable video, click here for SD or here for 720p HD.
Reviewing the tape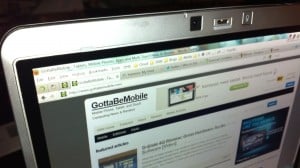 As you can see, the video quality of the 2760p webcam is pretty good at when shooting VGA (480 x 640), but gets disjointed at 720p using HP's webcam application. Video saves as .wmv and it was edited using Windows Live Movie Maker. The color is less vibrant but more true than the iPad recording. Likewise, recording volume was not as high, but did not suffer from excessive loudness either.
However, for smoothness, the HP webcam just doesn't compare. The audio is slightly delayed and motion is blurred. The shakiness as I leaned on the table should have affected both tablets, but it's very apparent on the HP while being nearly imperceptible on the iPad.
Lighting highs and lows
The webcam does shine when compensating for low light and backlighting. Images were clear in darkness when relying on the display brightness alone. Backlight compensation worked fine against soft white CFL backlight, while sunlight often resulted in interesting halo effects, though still quite clear.
Did it make the cut?
For a notebook webcam, the camera on the 2760p pretty good, but that's like saying something is pretty mobile for a desktop computer. For all the advancement we've seen with cameras on mobile devices, PC webcams still confoundingly lag behind. Granted, most people aren't going to be using a notebook webcam as their regular video recorder, but this is an area where "full PCs" aren't so full.