GBM Shortcut: Mind Mapping With the iPhone and MindMaker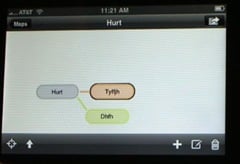 We've been talking about mind mapping quite a bit lately, so when I came across MindMaker, a nifty little mind mapping iPhone / iPod Touch application, I thought it be fun to try it out. The need to mind map can come at the most unusual times, especially during times when a Tablet PC isn't handy, and that is where MindMaker shines. MindMaker costs $4.99 and is available from the iPhone App Store.
Checkout the video demo after the break.
Update: thanks to our readers for letting us know about iBlueSky, another mind mapping application, but operates bit better and provides cut / paste of nodes. Check it out…it costs $7.99