GBM Shortcut: Opera Mobile 11 for Windows tablets
The recently released Opera Mobile 11 is burning up the web on Android and Symbian devices, but did you know Opera Labs has a version for Windows-based tablets? It's fast. It's smooth. But does it work well on Windows? Find out in this GBM Shortcut.
The video is also available for download in iOS-compatible m4v format, SD and HD.
The operating system is Windows 7 Professional 64-bit. The hardware is a Fujitsu Lifebook T900 packing an Intel Core i5 processor and 4GB of memory. More than enough power to surf the web, yet I can't say I've had a more fluid web browsing experience on this machine than I have with Opera Mobile 11. I can definitely surf with more power using my own tailored system built around pen and touch, but OM11 on a touchscreen offers an effortless experience. It's limited, but it works out of the box and is absolutely fluid.
The Good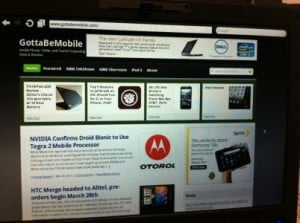 As seen in the video, panning and zooming in OM11 is smooth as silk. None of that choppiness we see with the standard Windows zoom, which happens because it zooms in 5% increments, or the lag and "catchiness" that sometimes happens when panning. For sheer fluidity alone, I recommend using OM11 anytime you want to demo a Windows tablet to anyone. It looks gorgeous and is simple enough for anyone to use.
On top of that, the browser loads pages lightning quick. There are several optimization options to streamline your browsing experience over a limited connection. My speedy home broadband connection does not permit me to put these to the test, but if you've got a slow connection or limited bandwidth, such as on a 3G plan, OM11 has you covered.
The Bad
This is a release from Opera Labs, which means it's experimental and it shows. It works perfectly in Windows but incorporates almost no Windows functionality. No Windows gestures. No windowed interface. No right-click functionality, including copy and paste. No access to standard keyboard shortcuts. No plug-ins to use Adobe Flash or Silverlight, both of which are installed on my tablet. And in the most ironic twist, no printing.
OM11 opens in fullscreen only. It uses its own keyboard (looks like Android's) with its own keyboard shortcuts that don't work on this keyboard. Rather, the shortcuts are designed for a phone keypad. They do work with a 10-key pad but these are rare on notebooks and pretty much non-existent on tablets. As seen in the video, I used my own Bluetooth keypad to test these.
These omissions do not interfere in any way with how OM11 operates, but a lot of stuff you expect to work in any Windows application just doesn't work here.
The Ugly
Quite frankly, there's nothing ugly about this browser. While there seems to be a laundry list of bad points, those primarily affect me as a power user. If you're primarily seeking and reading content, OM11 is a wonderful web browser. I am keeping it for casual web browsing, including one of our favorite subjects, stall surfing.
On the TEGA v2
I am also testing OM11 on my TEGA v2 and the experience is proving to be so different that I've written a post specifically on the subject. The browser controls and basic experience is the same as on my T900, but the feel of OM11 on the TEGA v2 being a touchscreen slate with 10″ display is distinct enough that it merits its own rundown. Check it out here.
Bottom Line
If you have a Windows tablet with multi-touch screen, download Opera Mobile 11. It won't replace a full desktop-level web browser for heavy work, but I really enjoy it for casual surfing and I think it will be a real crowdpleaser when showing off your gear. OM11 squashes any envy I had of the smooth surfing experience on the iPad.
For more web browsing on Windows tablets, check out my shortcut on Firefox customized for touch and Warner's look at Chrome.