GBM ShortCut: The Eye-Fi Wireless SD Card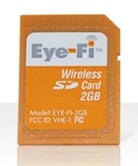 Seeing the release of the Eye-Fi Wireless SD Card excited me a short time ago and now that I have it in my hands, it still does. Although, there are a few caveats. The Eye-Fi Wireless SD Card allows you to transfer your digital photos directly from your camera over a wireless network, to either your computer or the on-line service you choose. (There are plenty to choose from.) I thought the 2GB card would be a handy accessory for my Canon SD1000 camera and it is. It is simple to set up, you basically give it your network information and the info for your on-line service, snap the pictures you want, and as long as you are in range of your WiFi network the Eye-Fi card does its thing. The Eye-Fi Card actually works in three modes: Upload to Web, Upload to the Web plus your computer, and Upload to Computer, so you have some flexibility there. If you're just doing some uploading to a web service, you don't even need to have your computer turned on, it'll upload straight through your router.
But that's where the caveats come in. It won't work with just any network, so doing this on the road with hotel or coffee shop hotspots won't work for you. You also need to be aware that you can't control the resolution or size of the pictures you are uploading, so if you've taken a large batch of photos at high res (the Canon SD1000 is a 7.1 megapixel camera) it can take awhile. That can also drain your camera's battery pretty quick.
Those caveats aside, I like what I see with the Eye-Fi card and hope they continue to develop this down the road.

This article may contain affiliate links. Click here for more details.