GBM's HP Magic Giveaway Winner Passes The Magic Along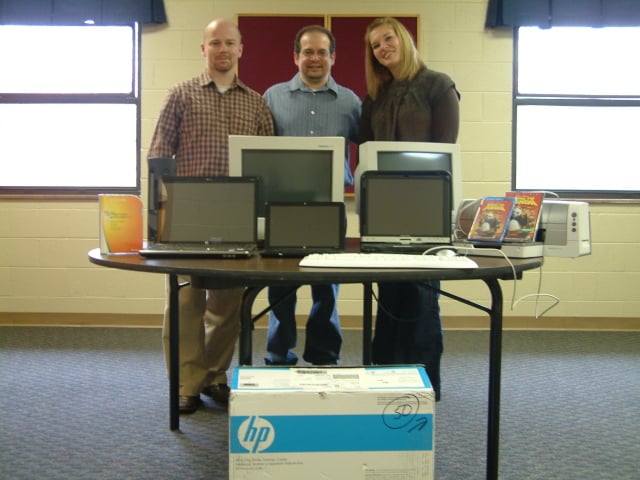 When we launched our HP Magic Giveaway contest, we were genuinely hoping that the winner we picked would follow through on their promise to pass along the magic of giving. David Arpino, our winner in the HP Magic Giveaway contest, followed through on his promise. He's been posting away in our forums about the prize package, playing with the HP TouchSmart (which he is keeping!), and yesterday presented all of his gifts ( and then some ) to The Restoration House, a non-profit ministry dedicated to helping single mother families.
Here is a picture of the presentation, a little writeup from David (there's much more in the forums, so head over there), and a thank-you note from The Restoration House themselves. A huge thanks to HP, Microsoft, the Windows Live team, and Buzz Corps for helping make the lives of single mothers just a little bit easier.
– David Arpino
What a wonderful day today.   Not just for me but for The Restoration House, the mothers living in the house, Gottabemobile.com, HP, Microsoft and everyone else involved.   God has truly blessed us all to have such a wonderful community.   Thank you especially to Rob Bushway for all your patience with me and for what you have done for the mobile computing community.

I met with Daniel and Mandy Watson of The Restoration House today to present them with their gifts from The HP Magic Giveaway, GBM, and Microsoft…as well as a few that I added in myself.   We had a great time and there was excitement all around.   We took a couple pictures for a press release and I have included one here for you all to enjoy as well.

That is me in the middle, Daniel to my right and Mandy to my left.   Most of the goodies are pictured in fornt of us with the exception of the HP HDX notebook which was damaged in shipping, and a couple of the desktops I'm donating.

Besides us in the picture is a Dell Optiplex GX desktop PC, the HP Pavilion Laptop, the HP Mininote, a Toshiba Tablet that I donated, the HP Multifunction Printer, a HP OfficeJet printer, two CRT monitors, and the DVD's and software.

I should have the other desktops wiped clean and the OS's reinstalled in a few days and I will present them along with the HDX NOtebook when it gets here.   My plans are to also take some pictures of everything once its all set up in the house.

Take Care,
A thank-you note from The Restoration House
Hello Rob.   I just wanted to say thank you for having gottabemoble.com host the recent HP Magic Giveaway contest.     It is such an incredible blessing.   David Arpino just stopped by a little bit ago presented us with all of the equipment in addition to the computers he was personally donating.   This is going to do so much for the operation of The Restoration House as well as our individual moms.   We have one of them starting school soon and that doesn't currently have a computer.   But she will now!

Thank you for being a judge and seeing the value in the work that we do.   It is truly an honor and we feel completely blessed each and every day.   David told me you were raised by a single mother so I'm sure you know some what our moms are up against but it is incredible how resilient they are.   We know having both my wife and I having been raised by single moms.

Journeying toward Restoration…

Daniel Watson
Executive Director

The Restoration House