GDC 2011: A.R. Drone Flying Remote Control Plane Demo (Video)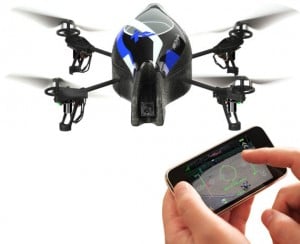 At the Game Developers Conference in San Francisco, California, Parrot was showing off its popular remote control plane/helicopter, which is controlled via an iOS device like the iPhone, iPod Touch, or iPad. Combined with the hardware, the company has also released a social augmented reality game for the A.R. Drone, and says that it has opened up the APIs so that other developers can create games for the A.R. Drone as well.
The A.R. Drone is embedded with a number of sensors and connects via your iOS device via WiFi, so the range is effectively limited by your WiFi network range. The A.R. Drone can be flown either indoors or outdoors, and has a battery life of 12 minutes; though the battery can be swapped out when you're low on juice. According to Parrot, the maker of the A.R. Drone, the flying apparatus has some safety mechanisms in place, and so if the device senses that one or more of its propellers are obstructed, the propellers will stop and the device will fall to the ground. Made of hard foam, the A.R. Drone is durable, and users can order replacement parts and service the Drone themselves if they need to, making it a fun toy for hobbyists.
In terms of social game play, the A.R. Drone can play via a nearby friend with another A.R. Drone in a game of pursuit. This way, it's like two fighter planes trying to attack each other. The A.R. Dones can locate each other via two embedded cameras on the plane, and once you see your opponent A.R. Drone, you can launch a virtual missile at them. While the game right now is only available on iOS devices, Parrot says that developers can port the game to other platforms as well.