GDC 2011: Razer Switchblade Video Demo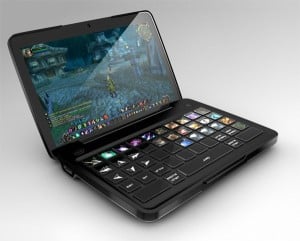 We were at Intel's booth at the Game Developers Conference in San Francisco, California where we had noticed a small, portable gaming device from Razer called the Switchblade. According to the company, the Switchblade right now is still an early prototype or concept device, and Razer wouldn't disclose any formal specs on this diminutive gaming PC other than to say it runs on an Intel Atom CPU, is powered by Windows 7, and has a touchscreen.
The neat part about the Switchblade is the dynamically changing mechanical keys on the keyboard. Each key has a small display at the top where the keys will change in function depending on the apps, games, programs, or utility you're in. For example, if you're using the Windows 7-based brain to edit a Word document, the keyboard will dynamically adapt to display a traditional keyboard. Open up a game, and your QWERTY will convert itself to show controllers specific to the game. This will allow users to have the flexibility found only on touchscreen-based solutions with dynamically changing keys, rather than having to purchase dedicated keyboards for specific games or programs, while also delivering the great tactile response of a mechanical keyboard.
It'd be interesting to see how developers will adopt the Switchblade for their own apps and games. The only downside that I can see at this point is that the Intel Atom processor, while being power efficient, is also not as strong in the graphics department for serious gaming.

This article may contain affiliate links. Click here for more details.