Gear and Blogging in Las Vegas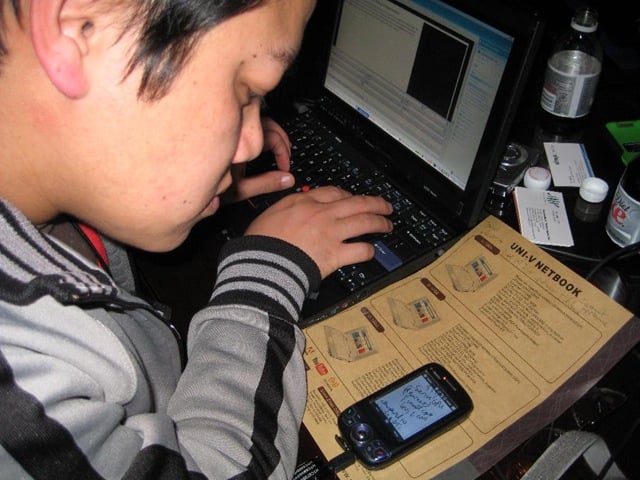 CES 2009 is over, and man, am I tired! It's Monday afternoon and I think I've finally recharged the batteries enough to be productive again. At the same time that I'm relieved to have it all over with, a little part of me is sad that I can't continue chasing after the latest and greatest technologies and geeking out with a room full of other tech heads. I finally met Rob, Sierra, and Warner in person, and let me tell you, working online with them pales in comparison to working alongside them. They are amazing people in every sense of the word. Their tremendous technological expertise is easily surpassed by their generosity and kindness. I couldn't ask for a better group of people to cover CES 2009 with.
This year, Rob set up the capabilities to post live from the CES floor via cell phone and my T-Mobile Wing's 2 megapixel camera came through. The one thing I couldn't do with the Wing was use its video capturing capabilities to upload as the small 176 x 144 pixels would have been utterly useless even for quick blogging purposes. The Wing also came in handy for its WM 6.1 Notes program. With Notes, I was able to quickly ink shorthand notes, specifications, and reminders for myself on the technology I saw.
I know that Lenovo is our sponsor but I honestly think that the Lenovo X200T is a tremendous machine. The fine balance between weight, size, battery life and performance is just about perfect on this tablet. On the floor of the Las Vegas Convention Center or at the Sands Expo, I ran the Power Saver mode that downclocks the processor to 800MHz. At this setting, battery life is on par with my T2010, which runs about 6-8 hours depending on how many processor intensive programs I am running. When we were back at CntrStg, I plugged in and resumed the Balanced power setting and fully utilized the 1.86GHz from the Centrino2 processor and was able to multi-task without ever getting slowed down. I think both Warner and Rob were sick of me proclaiming, "Wow, this machine really flies!," or something to that affect every 15 minutes or so of rendering video. I think the best thing about the Lenovo is its keyboard, which made blogging a breeze. I can touch type quickly and comfortably all night long without any discomfort. There's something that has to be said about a great keyboard design and I am both surprised and disappointed that Lenovo didn't extend this luxury onto their netbook line.
Special thanks to Rob, Sierra, and Warner for giving this CES rookie pointers on how to survive in the rough and tumble world of blogging, for introducing me to the big wigs in the industry, and for trusting me enough to let me cover stories on my own when it was prudent to split up in order to maximize coverage for our readers. A shout out also goes to the folks at CntrStg for their facilities and hospitality. We wouldn't have gotten nearly as much done as we did if it wasn't for CntrStg allowing us to use their villa as home-base. And of course, Lenovo deserves major props for providing us with the resources to cover CES 2009.

As an Amazon Associate I earn from qualifying purchases.