Gear Diary Clears Up Some DualCor cPC Questions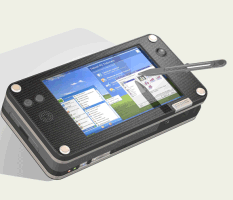 The DualCor cPC has certainly been a subject of much talk. Word of the device it like gangbusters last January (or was it December?) and the dual processor device intrigued quite a few mobile warriors. Who wouldn't be interested in a device that could run both XP and Windows Mobile? But the DualCor cPC has also been the subject of delays, rumors, and just some bad PR handling. The last big rumor was that version one was being canned and DualCor was moving on to version two. Judie at Gear Diary recently interviewed DualCor CEO Rob Howe to get the straight dope and has published the resulting email. Here's an excerpt:
Gear Diary: Does this mean that version one might just end up being impractical to make, meaning that it would have to be realistically skipped over for a version two? Or does it simply mean that the components of version one would need to be reworked?
Howe: A little of both. Obviously we won't release a product with a major part that is or is soon going obsolete. We're evaluating several options.
I'm not sure we get solid answers. But the interview is worth a read about this device that may or may not ever be.

As an Amazon Associate I earn from qualifying purchases.