Gears of War 4 December Update Release Date & Features
When an already infamous video game franchises strikes it big with a new generation of gamers, there's only one thing for a company like Microsoft to do. Gears of War 4, Microsoft's third-person cover shooter, has a great story, amazing graphics and lots of new gameplay mechanics that people love. The Gears of War 4 December Update seeks to keep players coming back for more during the cold winter days ahead.
Detailed this week, the Gears of War 4 December Update will pack a lot. The game's multiplayer experience is getting two all-new places to battle it out with friends and random people over Xbox Live. Besides the new play areas, the update will add new reasons for gamers to continue playing in multiplayer whenever they can, audio upgrades, special extras for those that have the Gears of War 4 Season Pass and a feature from the Xbox One version of the game that'll make those playing on a PC running Windows 10 very happy.
Read: Gears of War 4 Xbox One Release: What You Need to Know
Gears of War 4 December Update: Release Date & Price
Microsoft launched Gears of War 4 this past on October on Xbox One and Windows 10. In addition to being the first major update to the mainstream franchise in years, Gears of War 4 had a lot to offer players. Developer The Coalition rebuilt the game's multiplayer experience, but tried to stay true to what gamers liked about the first three titles. At the same time, it experimenting with multiplayer modes and transitioned all online play to an always-upgrading service. When content updates come up for Gears of War 4, gamers don't have to pay a thing.
The Gears of War 4 December Update arrives for owners of the game on December 6th. There's no charge at all, which will allow everyone member of the game's vast online community to enjoy the new features.
Gears of War 4 December Update: New Maps
The December Update's highlight are the new maps. Gamers can expect two in all. The Coalition has named them Glory and Speyer.
Speyer offers plenty of interior space, forcing players to look around every corner. Its architecture predates the dangerous Locus, which is why it's so grand, The Collation says. There's some plaza areas for those that aren't too big on close quarters combat.
A mounted turret and fortress anchor the other new map in the Gears of War 4 December Update, Glory.
The studio says that it'll add both Glory and Speyer to public playlists for the game's multiplayer on December 13th. Those that want some one-on-one time with their friends in the maps outside of the public playlists will need to purchase the Gears of War 4 Season Pass or the maps individually from Gears of War 4's store. These two new maps will replace Gridlock and Relic, which will return to public playlists at some point in the future.
Gears of War 4 December Update: New Features
We don't yet know the full extent of the changes the December Update will bring to the map rotation in Gears of War 4. We do know that some changes are coming.
Games trying to maintain a population over time have to give players a reason to come back day after day. The new Daily Rewards program for Gears of War 4 will provide a nice carrot for those that want to feel encouraged to spend more of their time with the title's multiplayer.
Bowing to feedback, the Gnasher weapon is getting a tweaked look and damage statistics. There's some audio improvements and tweaks to the video and audio settings baked into the game.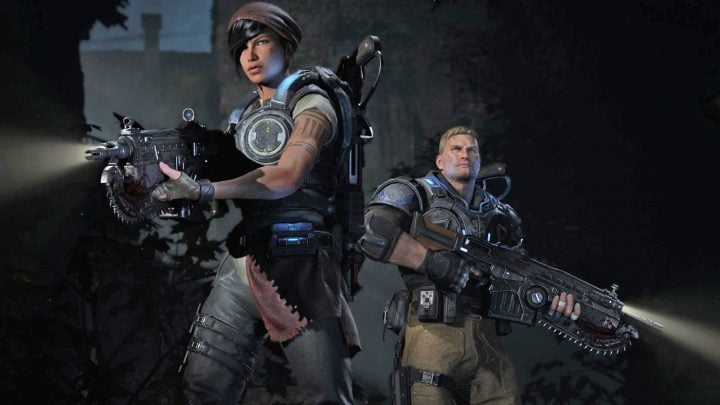 Gears of War 4 isn't just the first game in the series to be built with the Xbox One in mind. It's also the first of Microsoft's shooters to make it into the Xbox Play Anywhere program. Play Anywhere gives users a Windows or Xbox copy of a digital game at no additional charge. Buy the Xbox version and there's a Windows version waiting in the store for you to try on your gaming PC.
The Gears of War 4 December Update will add the vertical split-screen multiplayer experience to the Windows 10 version of the game.
Finally, Gears of War 4 Season pass holders will earn more Credit and experience for themselves when they play the Developer Playlist that's coming to the game. They also get early access to the maps on December 6th.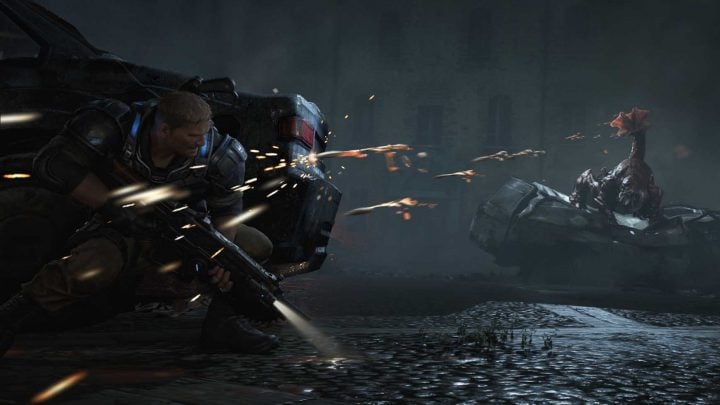 All told, the Gears of War 4 December Update will have something for everyone to get excited about. Those that haven't purchased the game yet can do so without buying at full price. Until December 28th, Gears of War 4 is 33% percent cheaper than it would normally be. In the U.S. that translates to $34.99 for a basic copy of the game. That's a savings of $24.99.

As an Amazon Associate I earn from qualifying purchases.