Gears of War 4 for PC Release: Everything That You Need to Know
In a bad way, Microsoft's Xbox Live gaming service needs a hit exclusive title right now. The company is in the midst of transforming its Xbox business into something that knows no hardware limitations. It's introduced an app that brings voice chatting, party creation and profile tracking to Windows users. Every Xbox One accessory worth owning works on PCs running Windows 10. The last two Xbox exclusives, ReCore and Quantum Break, were just opportunities for Microsoft to test out its infrastructure. The Gears of War 4 for PC release could change everything for the company.
Truth is, ReCore and Quantum Break could have been big releases for Windows users if Microsoft's reputation with PC gamers wasn't in tatters. The company spent years ignoring the platform entirely. The Xbox 360 and Xbox One got releases that Windows users had no access to. When game releases did overlap, users had to pay for them twice and maintain separate game saves and progress.
Read: Xbox One in 2016: Games & More That We Can't Wait For
Gears of War 4 will be the third game made by Microsoft's teams to launch as part of its Xbox Play Anywhere program. Because of Play Anywhere, there's just one set of game saves between console and PC. Purchasing a digital version of the game on one unlocks the other. If that wasn't enough Gears of War 4 is an absolute juggernaut in its own right. It's the first main game in the series to arrive in years, making it infinitely more exciting than Gears of War Judgement. If Microsoft can nail its launch, it stands a chance of winning over skeptical PC gamers.
The Gears of War 4 for PC release is quickly approaching. Here's what you need to know ahead of when it arrives.
Gears of War 4 for PC Release Date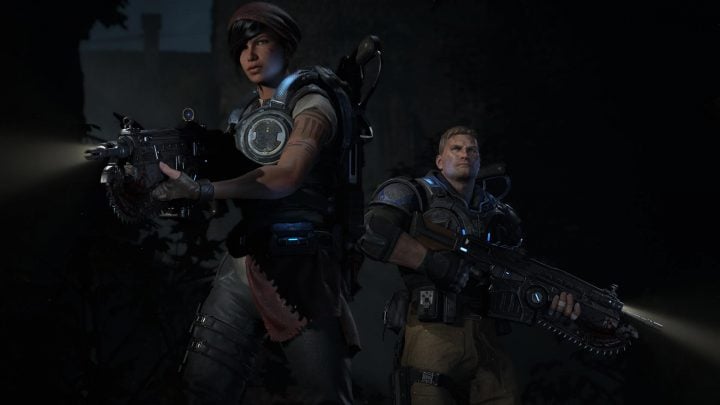 A third-person shooter with bloody weapons and cover mechanics, Gears of War 4 will feature an all-new team of heroes backed by a familiar face. JD Fenix, Kait and Del are the new heroes. JD is the son of Marcus Fenix, who'll feature in this game's story somehow. That's if the game's launch trailer is anything to judge by.
Microsoft plans for Gears of War 4 to arrive ahead of this year's rush of shooters on October 11th. A unified platform means that users can get the game on PC at the same time that their Xbox One counterparts do. The Gears of War 4 for PC release date is also October 11th.
Gears of War 4 for PC Specs
PC users might be able to purchase Gears of War 4, but that doesn't mean it'll run on everything. There are stiff requirements outside of just having access to the Windows Store.
Anyone that wants to play the game will need a 64-bit processor, 8GB of RAM and 2GB of dedicated video RAM. They'll also need at least an Intel Core i5 or AMD FX-6300 processor. Graphics cards as far back as the NVIDIA GeForce 750 TI and Radeon R7 260X can power the game at minimum fidelity.
https://www.youtube.com/watch?v=ji2aU4EdQww
The recommended settings involve an Intel Core i5 4690 processor or AMD FX-8350 processor. Video memory increases to 4GB and a GeForce 970 graphics or better is recommended. To see if your PC meets the requirements, simply visit the Windows Store page for the game and scroll down. The app will check the hardware inside your machine and compare it to the hardware the game requires.
Gears of War 4 for PC Features
Gears of War 4 introduces a lot of multiplayer upgrades that we've seen in other Xbox One games. Like Halo 5, its entire campaign will support co-operative play, albeit with just one other person. Unlike Halo 5, Gears of War 4 has split-screen play so that two gamers can use the same hardware to play.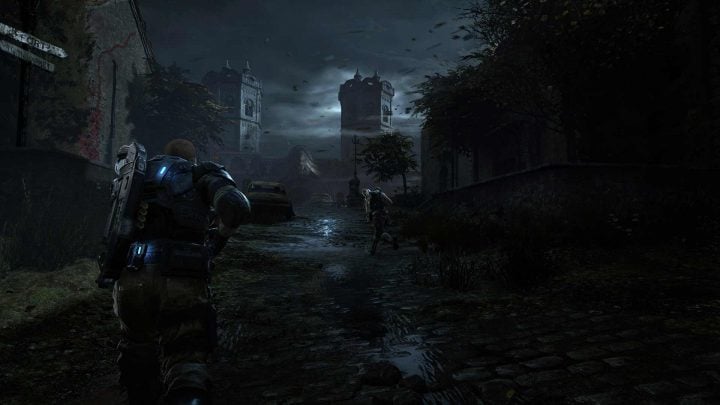 Up to 4 different players can enjoy the upgraded Horde Mode. Players deploy different fortifications to help them and their friends fight off the increasingly dangerous waves of enemies. Competitive multiplayer has dedicated servers, with improved matchmaking and a ranking system. There are more opportunities for cover, more gruesome weapons and knife executions too.
According to developer The Coalition, games can expect 60 frames per second in multiplayer. For the truly visualobsessed, the game will support 4K displays and television sets. It'll also offer HDR or high-dynamic range support.
Gears of War 4 for PC & How it Works with Xbox Live Play Anywhere
Again, because Gears of War 4 for PC is an Xbox Live Anywhere title, purchasing one digital version will unlock a companion version for the other. The games sync between Xbox One and Windows PCs, meaning progress is only racked up once. DLC purchases made in one, works in the other too.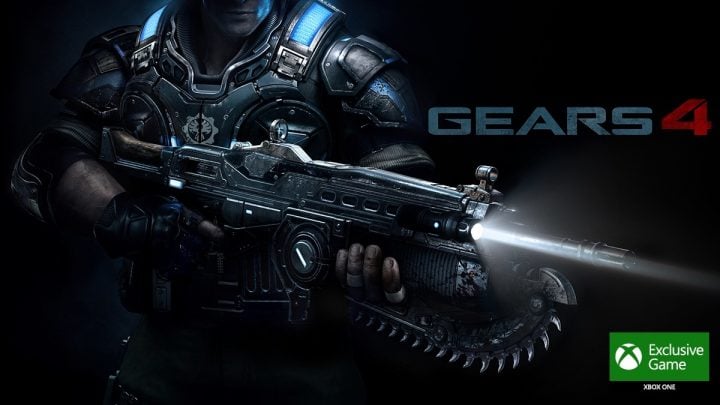 Broad support for multiplayer between Xbox One and Gears of War 4 for PC isn't happening. Instead, The Coalition is enabling cross-play on a case by case basis. Horde Mode, and Campaign co-operative play have the feature. So do LAN games and multiplayer versus. General population multiplayer won't. As such, users don't have to worry about PC or Xbox users having a distinct advantage whenever.
Read: How to Share Xbox One Games with Friends
A single user can't play the same game on Windows 10 and Xbox One through the same account. Theoretically, one user could be on PC and another user could be on Xbox One. For that to work without purchasing two copies, the Xbox One in question needs to be the Home console of the user that purchased the game.
How to Get the Gears of War 4 PC Release for Free
Because Gears of War 4 is such a high-profile launch title for Windows, Microsoft and NVIDIA are partnering up to give gamers a free copy of the title — provided they purchase the right equipment.
Anyone that purchases a NVIDIA GeForce GTX 1080 or 1070 graphics card from a participating website or retailer qualifies. Participating stores include Best Buy, Newegg, MicroCenter, Fry's and NCIX purchases. In addition to that, anyone that purchases a qualifying PC with the graphics card from Asus, MSI, Sager and Razer qualify for the free game. PCs built by Avadirect, iBuyPower, Velocity Micro, XoticPC, Puget Systems, CyberPowerPC and Cybertron also qualify.
NVIDIA has more about the redemption process on its website.
Good luck with the Gears of War 4 for PC release. Pre-orders for the game have already kicked off at the Microsoft Store. A basic copy of the game costs $59.99. Gears of War 4 Ultimate Edition costs $99.99. It includes the game's season pass for add-on content.

As an Amazon Associate I earn from qualifying purchases.