Gears of War Ultimate Edition Reviews Arrive
Ahead release day tomorrow, Gears of War Ultimate Edition reviews are finally starting to trickle in. Surprisingly, many of these reviews aren't overwhelming favorable thanks to Microsoft not providing real-world multiplayer access.
Video game websites across the globe began posting their Gears of War Ultimate Edition reviews and impressions late last night in time for readers to catch up on them this morning ahead of the game's release tomorrow, August 25th. Gears of War Ultimate Edition started out as a top-to-bottom remake of the first Gears of War for the Xbox 360. Microsoft later revealed that Gears of War Ultimate Edition buyers get the refreshed game and digital copies of the other games in the series using the Xbox One's backwards compatibility technology.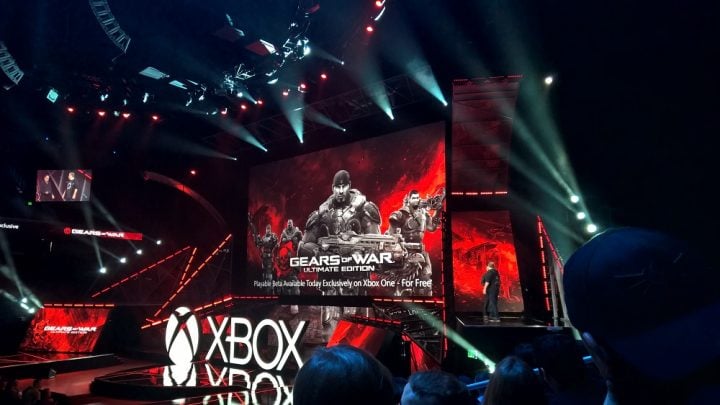 Video game website Polygon was among the first websites to post their Gears of War Ultimate Edition review. The outlet describes the game as "surprisingly relevant," which is a good thing to hear considering it originally launched a decade ago. Gears of War Ultimate Edition being a remake, the outlet judged the game based on the improvements The Coalition, Microsoft's internal development studio for Gears of War: Ultimate Edition, made specifically for this release. In particular, the outlet notes that the game's story, "benefits from a subtle but significant improvement in controls." Everything supposedly feels cleaner and easier to follow thanks to new cutscenes. The Gears of War Ultimate Edition multiplayer can run up to 60 frames per second for an incredibly smooth mechanic. Allegedly, it's one of the "smoothest-controlling shooters" Arthur Gies has made, which again says a lot.
Matt Miller of Game Informer reveals that a Gears of War Ultimate Edition review from his outlet is just in the works. Miller cites, not having hands-on time with skill-based multiplayer and dedicated servers as the reason the outlet is holding off on posting its review and impressions. That makes sense, in recent years a number of games have gotten good review scores from media outlets before launching with complete broken single player and multiplayer experiences. Gears of War Ultimate Edition has two new modes that weren't in its original release: King of the Hill and Team DeathMatch. The outlet plans to post their review later in the week.
IGN is holding off on providing a final score, but did publish their Gears of War Ultimate Edition review. The outlet found that the tone of Gears of War isn't disturbed by the upgrades made to the campaign from the original game and the multiplayer experience. "Its 20 maps keep the game from feeling stagnant, and offer a variety of paths to outsmart enemies," the review says. Reviewer, Brian Albert loves the remastered, bloody war between the Locust and the game's protagonists.
In Gears of War, Earth is on the brink of destruction. Surprisingly, this foe isn't from a different area of the galaxy. Instead, the Locust have risen from the Earth itself, ready to destroy any human who stands in their way. Xbox One owners play as Marcus Fenix, a criminal who has no problem killing anything and everything in sight if he needs too. He and his squad or an unstoppable force of violence, killing any alien they can find with the game's brutal weapons. Gears of War is a third-person shooter, letting players see themselves within the levels they are playing.
Gears of War Ultimate Edition reviews are very important to the future of the Xbox One. First, Gears of War defined the Xbox 360 at release. Somehow ruining the game would tarnish the good will Microsoft has earned with the series thus far. Gears of War Ultimate Edition is also acting as a lure for Gears of War 4. Besides digital copies of the Xbox 360 versions of the game, Xbox One owners also get exclusive access to the Gears of War 4 multiplayer beta happening in 2016.
Read: All the Last Minute Gears of War Ultimate Edition Release Details
Xbox One owners can pre-order Gears of War Ultimate Edition from the Xbox Store for $39.99. Microsoft also has a Gears of War Ultimate Edition Xbox One bundle available for $399.99.

This article may contain affiliate links. Click here for more details.