Geeking Out Watching the Back to the Mac Event
Here's a shot of how I'm watching Apple's Back to the Mac event. I'm using the iMac to watch and listen to Leo LaPorte's running commentary on one screen, keeping up with the team and with Twitter on a second monitor. The iPad is streaming the event live, and the Tega v2 to follow some of the live blogs. Geeky but fun.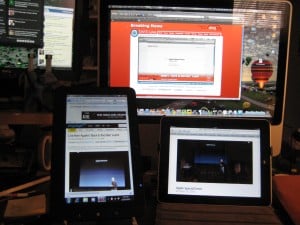 As an Amazon Associate I earn from qualifying purchases.