Geeks Moving to Chrome, Consumers Still Running IE and Firefox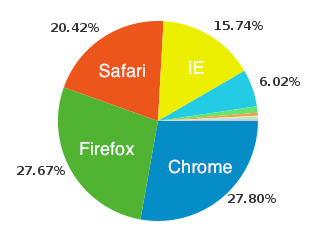 Geeks will dump a browser and adopt another if it proves to be faster and have more bells and whistles. Techcrunch is reporting today that Google Chrome is used by more of its visitors than any other, ripping the title away from FireFox after four years. Google Chrome is currently my favorite browser and I can certainly understand the sentiment, but consumers aren't so quick to change browsers…or even know that it's possible to do so.
Techcrunch's user base is relatively geeky and there are a ton of Mac fans.  Less than 16% of TechCrunch's readers visit via Internet Explorer on a PC. TechCrunch did not provide a breakdown of how many Mac users visited the site vs. PC users. A very high percentage of Mac users (and iOS users) could explain why the Safari, Chrome and Firefox numbers are so high.
Chrome: 27.80%
Firefox: 27.67%
Safari: 20.42%
Internet Explorer: 15.74%

Here at GottaBeMobile, the browser share is a little different. Firefox is still the leader of the pack, with a 31.2.% share, about even with Internet Explorer (30.4%). Google Chrome (21.1%) is third in line, with Safari ringing in 14.6% (including iOS devices). In a distant fifth is Opera, with about a 1.5% share.
I'm pretty certain that GottaBeMobile has far less Mac visitors than TechCrunch, which in part explains the discrepancy. Just over 76% of GBM visitors are PC users, running some flavor of Windows. Almost half of the Windows users are running Windows 7, which is almost tripple the number of Vista users and a few percentage points ahead of Windows XP, the OS that won't die. Just 15% of GottaBeMobile visitors are using Macs.
Notebooks.com, GBM's sister site, has far more non-geeks visiting on a daily basis. Rather than debating the merits of various mobile browsers, Notebooks.com users are more likely looking to find a deal on a gadget or solve a relatively basic computer problem.
Almost three-quarters of Notebooks.com readers are using PCs (73.6%), while one eighth (12.3%) are on Macs. Surprisingly, nearly 10% of Notebooks.com readers visit on an iOS device, with the remainder on other mobile OS's.
Notebooks.com readers are less likely to  have an alternate browser installed, with 38.2% using Internet Explorer and over half of Mac users (8.6%) sticking to Safari. About a quarter (25.6%) run Firefox and only 13.9% use Google Chrome.
That last number is the most interesting to me and the one that's far removed from TechCrunch vistior stats. Despite the near constant bombardment of Chrome ads and promos scattered about Gmail and other Google services, Google can only muster up a 13.9% share amongst Notebooks.com visitors. That's not terribly impressive. While the geeks, including several GBM and Notebooks.com contributors, are choosing Google Chrome more and more, the average consumer's more likely to think of Chrome as something you pay extra for when ordering auto parts than a computer application.

As an Amazon Associate I earn from qualifying purchases.