GeekZone Reviews The Toshiba R400 Tablet PC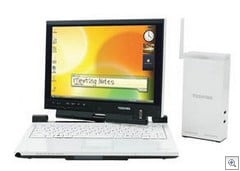 M Freitas at GeekZone goes hands on with the Toshiba R400 Tablet PC and has posted a review with pros and cons. Given that Toshiba was first out of the chute with their Vista ready Tablet PC, (admittedly with a high price tag), it has been interesting to see what I consider to be a relatively few users in the GBM Forums who have picked up the R400 so far. I'm wondering if we'll see more when the wireless dock is released?
In any regard, check out the GeekZone review here, and don't forget to check out Dennis Rice's InkShow of the R400.

As an Amazon Associate I earn from qualifying purchases.