Geonaute Launches 360° Action Camera Capable of 2k Video
Action or sports cameras are a popular device in today's digital age, but offering something different than GoPro and many other household names is hard to come by. Something we saw last year at CES, the Geonaute 360° Action Camera, is finally ready for prime-time.
At the Consumer Electronics Show here in 2014 Geonaute is showcasing the final product, which offers an action camera like never before. Many offer wide angle views, but Geonaute employs three wide-angle 8 megapixel cameras capable of 2k video and 4k photo capture at full 360 degree views. The capture and view process may not be as simple as some, but the results should leave many thrill-seekers pleased.
For those curious about the video capture abilities, the Geonaute 360 is capable of 2k video at 25fps, which is 2048 x 1024, and it also can take photos at a resolution up to 4k. Including a rather impressive time-lapse feature which we didn't capture, but was being shown off here at CES.
Coming with three cameras instead of one it isn't quite as lightweight as some, but will come equipped with an array of mounts for any occasion. Whether that be mounted to a helmet while biking, to a pole for those flying down a mountain on a snowboard.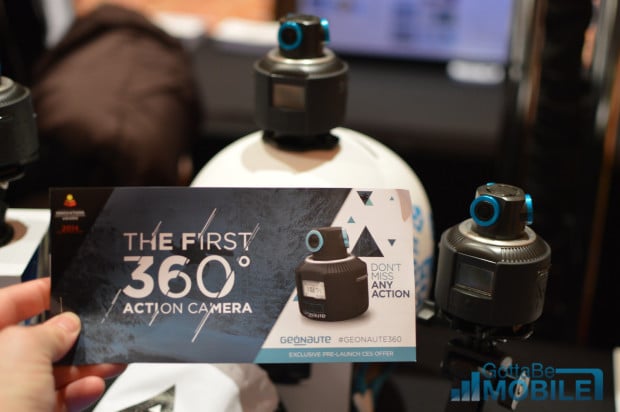 For those curious about size, space, and recording, you'll be happy to know the Geonaute records right to a micro-SD slot. It'll record in the familiar H.264, MP4 format and they tell us you can expect each 8 minute video to come in about 1GB in size. The only issue we find is you'll have to upload video to the Geonaute software to fully decode the three-in-one video file, otherwise it won't look quite right.
Once completed you'll be able to get a view in full resolution of anything and everything around you in a full 360 degree view to add to those popular YouTube clips, or whatever you'd like. Of course Geonaute also offer an accompanying iOS and Android app to help with all the tasks, and for managing settings, and once you capture some video you'll be ready to roll.
The impressive full 360 degrees action camera has come along way since being first shown off last year, and it just launched at a retail price of $499.