Get a $50 Gift Card with Verizon Phones From Amazon
Amazon is offering a pretty spectacular deal on new Verizon phones. Right now if you purchase a Verizon device, you get a $50 Amazon.com gift card good for anything the online retailer sells.
Some of these deals are so cheap that you'll actually make $49.99 by purchasing the phone. The best deals here can be found on smartphones, like the just released Droid Bionic and other 4G LTE devices, but there are also discounts on Windows Phone 7, BlackBerry and standard flip phones.
If you want a speedy 4G LTE mobile hotspot from Verizon, you can also pick up the Samsung SCH-LC11 for $19.99 and make $30 on the deal.
The $50 Amazon.com gift card promotion runs through September 26th, and is limited to one per customer. Phone prices will vary based on your eligibility for renewal and are lower for brand ne Verizon customers.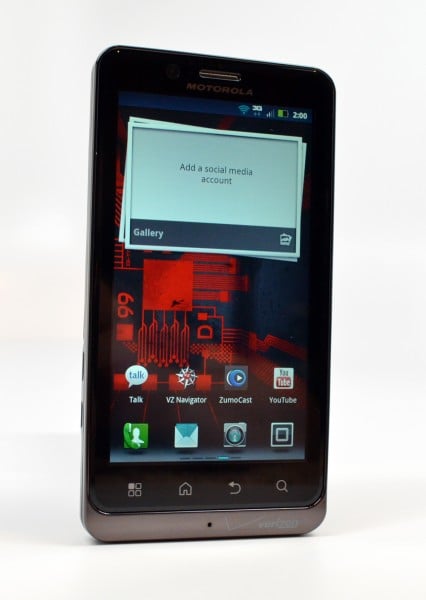 Here are some of our top picks, the prices listed below are before the $50 gift card
Motorola Droid Bionic – $179.99 ($249 current customers)
HTC ThunderBolt – $0.01 ($119 for current customers)
Droid Charge –  $0.01 ($119 for current customers)
Droid Incredible 2 – $0.01
Motorola Droid X2 – $$59.99
Android smartphones also get $15 in Amazon credit for Apps, MP3s and Kindle content.
Unlike the iPhone, which sees pretty stable prices for a long time after launch, Android devices like the Droid Bionic and Droid Charge are prone to price drops to sell more phones.
This is part of the reason why there were few or no Droid Bionic lines at Verizon stores. We heard reports of lines at Costco, where there was an amazing Droid Bionic bundle in short supply, but that's about it.
Savvy shoppers know that devices like the Droid Bionic, Samsung Droid Charge and HTC ThunderBolt are not going to sell out on launch day, and can be confident that just weeks after launch the price will drop a noticeable amount. In the case of the ThunderBolt and the Droid Charge, the price has dropped to a penny just several months after launch.
If you are looking for a new Verizon phone, these are some of the best deals we've seen on brand new devices, and suggest looking online over purchasing in store since you can actually make money on the deal.

As an Amazon Associate I earn from qualifying purchases.