Get a Subsidized Netbook for $.99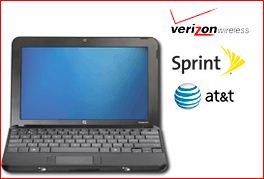 Well I guess we might get into a price war over subsidized Netbooks. If you're looking to pick up a Netbook for under a dollar you might want to head over to Best Buy and pick up a Compaq Netbook and activate it on the Sprint network. If you prefer Verizon or AT&T, it will cost you $199.
Either way you're on the hook for a two year contract and the fees and taxes for same. The Netbook in question is a Compaq D1040DX which I think is a rebadge job of the HP Mini. It has the usual specs we've all become accustomed to.
Like others I'm surprised that AT&T and Verizon are running this at a higher price and think Sprint will score well on this. But then again, maybe AT&T and Verizon don't see any real gains yet and let's face it, we're due to see a new crop of Netbooks busting loose just about any day now.

As an Amazon Associate I earn from qualifying purchases.