How to Get Android 4.4 KitKat Launcher On Your Android Smartphone
Last week Google finally announced Android 4.4 KitKat, and along with it was the brand new Nexus 5 smartphone, running a revamped home launcher and a brand new experience for Android users. We know many of you are eagerly waiting for KitKat to arrive for your Nexus devices, but for those who'd rather not wait we have the "experience" available now.
For those running devices that aren't a Nexus, the wait for Android 4.4 KitKat will be pretty long as manufacturers get their skins updated for the new OS, and as a result, many might be waiting up to 3 months or longer before they receive it. However, those crafty folks over at XDA Developers pulled the KitKat Launcher and it's now available for all. Below is a quick how to for those looking to give it a try today, instead of once an update arrives.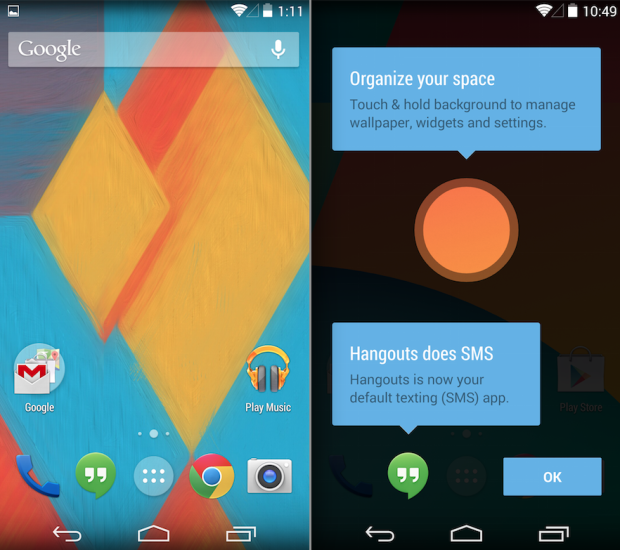 Pulled from the LG Nexus 5, Google's Home Launcher brings the entire look, feel, and Google Now experience to your device with ease. You'll need to be on Android 4.1 or above, download a few key applications which are easy to sideload and install on your device, and then you'll be up in no time.
Instructions
In order to get the Android 4.4 KitKat Launcher up and running you'll need to download and install the three files below. We recommend doing this right from your Android device, so you can easily tap each download from the "Downloads" app on your phone and install each file directly over the current ones. You'll be adding the Launcher (Google Home), replacing Google Now, and updating to the latest Google Play Services. All three are needed for the launcher to work correctly.
Download
Now before you click and install each one of these new application after you download them, you'll need to enable your phone to install apps from unknown sources. Basically, this means you'll allow apps to be sideloaded, instead of directly installed from the Google Play Store. It's simple, and safe. Head into settings, then depending on device you'll need to find the "Security" option. Select security and scroll down to "Unknown Sources" and check that box. This will enable installation of apps from unknown sources.
Check the box, then proceed to install Google Play Services from above, Google Now, then the KitKat Launcher which is also shown as Google Home.
Once you've enabled unknown sources and installed all three files from the download links above, you're all set and ready to go. From here you'll enjoy the latest Google Home Launcher. A quick swipe to the left and Google Now opens, and adding new homescreen pages is as simply as dragging an app to another page. Now add all your favorite weather and sports widgets, and you're set.
Some have started Google Voice (Now) having issues and crashing. Users are directed to head into Google Now and change the default language to something other than English, then back to English to solve the odd issue.
Read: Nexus 5 Unboxing Video
For those not willing to download unknown files and risk causing issues to their device (don't blame us) we're expecting Google to update these apps and make them available in the Play Store eventually, but there's no promise of that at this time. Remember if you hit home and select the default launcher instead of the new one, you can always reset this back to default in settings > Applications > and find the launcher.
Enjoy!