Get Ready for the CES 2009 Tablet PC and Touch Community Meetup!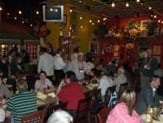 We're getting closer and closer to CES 2009 and you know what that means. It's party time! The 2009 CES Tablet PC and Touch Community Meetup is getting planned and this should be definitely showing up on your agenda. There's no location named yet, but there is a date and time: Saturday, January 10, 2009 between 3pm and 6pm.
As usual the hostess with the mostess, Lora Heiny, is putting out the word and asking folks to sign up. This year the RSVP is on Facebook. (Here's the link.)
Each year this is a highlight of CES when users, developers, OEMs, friends, and those curious about Tablet PCs, mobile computing, touch, and all of the things we cover here get together for some good food, good talk, and a bevy of prize giveaways. Who knows what this year will bring, but in year's past folks have walked away with some pretty amazing prizes.
Make sure you put this on your agenda and get ready for some fun. I'm telling you this is an event you don't want to miss.
Check out some coverage and pictures of last year's event here.

As an Amazon Associate I earn from qualifying purchases.