Get Ready for the Tablet PC/UMPC Meetup at CES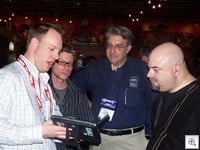 It's coming and you don't want to miss it. Lora Heiny has posted up some info and a request for assistance in planning the 2008 Tablet PC and UMPC Meetup at CES. This community gathering has been growing each and every year, and I have to admit that it was one of my highlights from CES last year. Where else can you gather in good fellowship with fellow users, OEMs, ISVs, and see so many great Tablet PCs and UMPCs?
It looks like this year's event will again be at the Cheeseburger Las Vegas in the Miracle Mile Shops and at the moment the date is being targeted for January 8, although that could change.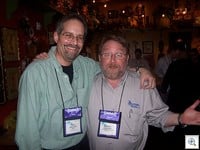 If you're attending CES and interested, make sure you check out Lora Heiny's blog, What Is New, and of course we'll be posting further information here on GBM as details become clearer. Heck, there were even some folks last year who flew into Vegas just for the meetup. Rob, Matt, Warner, and Sierra are all planning to attend, so GBM will be there in force and we'd love to see you there.
(In this post are some folks pictured from last year's CES Meetup. They include Microsoft's Dustin Hoffman demoing the Origami Touch Pack to Kevin Tofel, James Kendrick and Chris Coulter in the top picture. In the bottom picture Marc Orchant and Warner Crocker get together to share some fun. )
RSVP
Lora is requesting that you let her know if you're planning to attend by sending her an email at ljheiny at hotmail dot com and she'll be sending out updates as they occur.
One thing is guaranteed. This has been a great event in the past and I'm sure it will be this year as well.

This article may contain affiliate links. Click here for more details.