Get Your Turkey Helm on with Infinity Blade III
iOS gamers who love to do some slashing and smashing with Infinity Blade are getting a little Thanksgiving treat from the developers of the game. If you own Infinity Blade III you can choose to outfit your character with a Turkey Helmet. At least for a week you can. The little Thanksgiving armor treat is only available for that limited time. Then the Turkey helm will quietly disappear somewhere into there realms of the world of Infinity Blade for another year.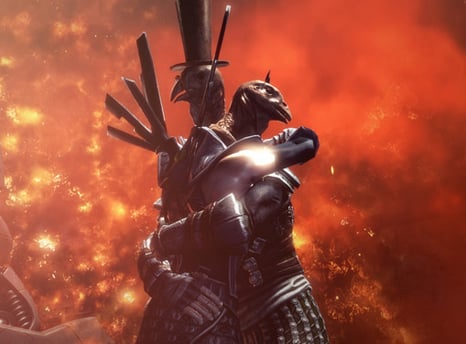 Infinity Blade III is the latest sequel to the popular game where you journey through dangerous worlds facing dangerous foes, all the while accumulating new weapons, armor, magical abilities and other items. The game costs $6.99. Infinity Blade III is also one of the first games coded for the new 64 bit architecture on the latest iOS devices, the iPad Air, the iPad mini with Retina Display, and the iPhone 5s.
You have to love this quote from the press release:
Infinity Blade III has gone to the birds. At least for the week of Thanksgiving. Available for a very limited time, IB3 players can score the Turkey Helm for both Isa and Siris. The helms not only look ridiculous, but offer users the chance to earn more experience and skill points to further improve their heroes. Don't wait another second because once the Turkey Helm is gone, it won't be back for another year.
One difference in the Infinity Blade III from the previous versions is that you can now play one of two characters, Isa or Siris. The turkey helmets don't cost you anything to equip and are available now. Note that the original Infinity Blade is available for free for a limited time as a Black Friday promotion. But don't go looking for turkey helms in that version.

As an Amazon Associate I earn from qualifying purchases.