Get Your Lenovo U110 Love at Fry's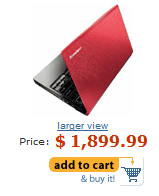 Lenovo is continuing to make its move in to retail, this time making its IdeaPad U110 available at Fry Electronics. So if you have a local Fry's in your area, head over and check it out for yourself. Be sure to watch our InkShow on the IdeaPad and see what my wife thought of it.
Thanks for the tip, Hector.

As an Amazon Associate I earn from qualifying purchases.