GETAC V100 Rugged Tablet PC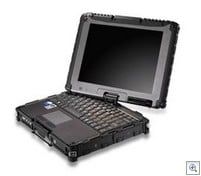 Yet another entry into the rugged Tablet PC market and this one is new to us here at GBM, although it appears to have been announced back in March. This one is called the GETAC V100 Rugged Tablet PC. The touchscreen model appears to come with the usual array of rugged specs including a reversable waterproof camera. Here's a link to more info on Steatite and here's the press release on the device and here's the product page.
>

As an Amazon Associate I earn from qualifying purchases.