Getting Down To Some Tablet PC Fun in Colorado
Well, we've finally all arrived, enjoyed some lunch and are finally getting down to some planning and work. Well, actually we're getting down to some fun as we're checking out Rob's HP 2710p (first time Matt and I have seen it hands on) and the Fujitsu T2010. We'll have both, and others as well on display at the meetup tomorrow night. Thanks to John Hill at Allegiance Technology Partners for sending the Fujitsu T2010 along for the weekend.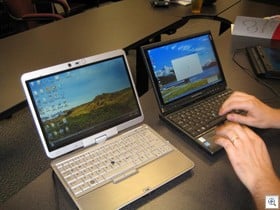 More pictures after the Read More link.

This article may contain affiliate links. Click here for more details.