Getting Ready for iOS5: Back Up Back Up Back Up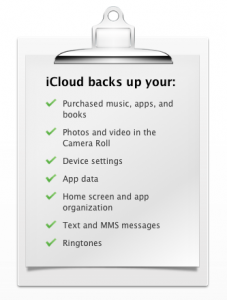 Apple's big event is less than a couple of hours away and while many are focusing on devices, iOS5 is going to be what all those iDevice users are going to be checking out before we see new phones. (Latest speculation by the way is that there is no iPhone 5, just the 4S, but we'll see shortly.)
Some expect iOS5 to drop today but I doubt it. Apple will release a new version of iTunes first and usually it lets a few days go by before they release an OS to work with it. What's important here is that we're supposed to see an all new way of downloading, backing up, and updating our iDevices with iOS5. You know, the iCloud. But before we get there, we'll still have to go through at least one more tethering experience. And who knows, there could be a glitch or two with this new post-PC way of accessing the Cloud, so you want your data and media to be safe.
So, before you go downloading iOS5, make sure you've backed up your iDevices first. Tether up to iTunes and do a sync. Then if it doesn't do an automatic backup, force one by choosing to Backup after clicking on your iDevice in iTunes.
And remember if you're a MobileMe user, that data is supposed to get transferred over to iCloud. So, you might want to make sure you have local copies of anything you've had on MobileMe before hand.
Something that always helps me save time when Apple updates iOS, is to go to my device and remove any large files like movies and games. This makes the update process go faster as those files aren't being copied over once the new OS is installed. I later add those files back once I'm sure everything is up and working.
Oh, and just to be safe (or is that paranoid?) I always back up my MacBook that I tether my iDevices to, so I have a backup of that backup in case anything goes wrong.
I'd rather be safe than sorry.

As an Amazon Associate I earn from qualifying purchases.