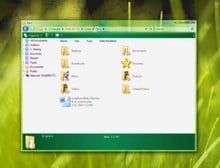 Craig Pringle has a couple of interesting posts worth highlighting for those interested in UMPCs and smaller form factor Tablet PCs. He's just installed Vista on his Motion LS800 and is reporting on his findings, pro and con.
He is also linking to Darryl Burling's efforts at getting Vista running on his TabletKiosk eo v7110. Craig offers his own thoughts as well about Vista on the eo and he seems quite impressed with the speed and how much better touch works in Vista. Check that out here.

As an Amazon Associate I earn from qualifying purchases.