Giants vs Royals World Series Game 7 Live Stream Details
The 2014 World Series is here, and it's the Giants vs Royals this time around. Here's how you can keep up with all of the action and live stream all the games.
The San Francisco Giants won the World Series in 2012 and 2010, and they look to continue the every-other-year pattern with a victory in 2014. The Kansas City Royals, however, haven't won the World Series since 1985, and this year has been the best W-L record for Kansas City since 1994, so this is no doubt a huge comeback for the team in blue.
Tonight is Game 7 of the 2014 World Series, but if you can't make it to a television or maybe just need to know what channel it's on in the first place, we're here to help. There are plenty of ways to watch the World Series that don't include a television, and while live sports have always been hard to come by on streaming services, it's slowly getting better, but there's still a long road ahead if live-streaming sports is going to take off.
In any case, the Royals will look to Lorenzo Cain for that magic glove in the team's defense, while Eric Hosmer will provide the Royals with the best RBI potential to bring in runs. The Giants, on the other hand, will rely on veteran Tim Hudson to shut down the Royals offense, with Hunter Pence in the lineup to bring in runs, as he leads the team in playoff RBIs alongside Brandon Belt and Brandon Crawford.
This is the deciding game in the World Series, with each team winning three games a piece. Game 7 will decide who takes home the Commissioner's Trophy, so this is definitely a game that you shouldn't miss.
Tonight's Game 7 of the World Series starts at 8:07pm ET and will take place back in Kansas City. Most folks should be home from work by then and free to lay back and relax, but if you're not able to be at home and can't catch the game on television, there are a couple of live-streaming options that you can choose from.
Here's how you can watch the 2014 World Series with the Giants vs Royals.
On Your Television
If you'll be home in time for the game and have at least an over-the-air antenna to capture local channels, that's half the battle right there, with the other half being able to keep a signal, especially if you live in a rural area.
Game 7 of the World Series will air on FOX and will start at 8:07pm ET.
If you're like me and don't even have an antenna to grab local channels, there are still some options that you can consider.
Streaming Online
If you want to stream the World Series on your computer without any strings attached, there are several streaming websites that offer live sports at no cost, although there are a couple of things to keep in mind if you plan to go this route.
Some websites that come to mind are Stream2Watch and Wiziwig. You can stream live stream sports using these websites, as well as view specific channels in order to watch a specific television show that comes on.
However, these sites usually have a ton of ads, so it's a good idea to enable some sort of ad blocker, as they're littered with advertisements that hinder the viewing experience.
Furthermore, don't expect the best streaming quality from these websites. Most of them only offer standard definition, so the picture might not look as good on an HD display.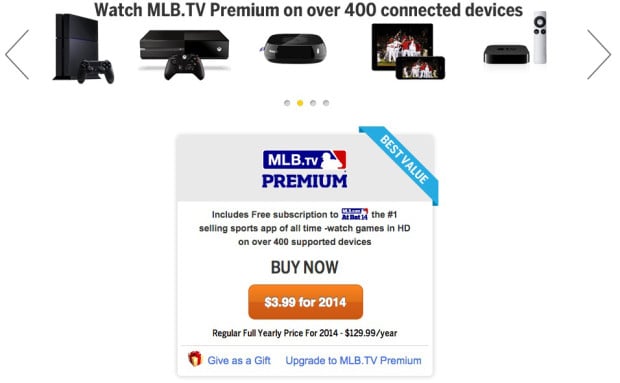 Other than some sketchy streaming websites, you can use MLB.TV to stream the World Series on your computer, gaming console, or set-top box. It will cost you a small $9.99 subscription fee for the remaining games, but it offers the best streaming experience with HD quality, and the package comes with the first month of next year's season absolutely free.
Furthermore, there are no blackout restrictions to worry about, as MLB.TV has gotten rid of them for the World Series. However, you'll need to be a cable subscriber to one of the several that the service lists, including DirecTV, Time Warner Cable, Verizon FiOS, AT&T U-verse, and COX.
MLB At Bat
If you have to rely on your smartphone or tablet to watch the 2014 World Series, MLB At Bat is pretty much the only option, but it's a fantastic app that offers a lot of features besides just streaming games.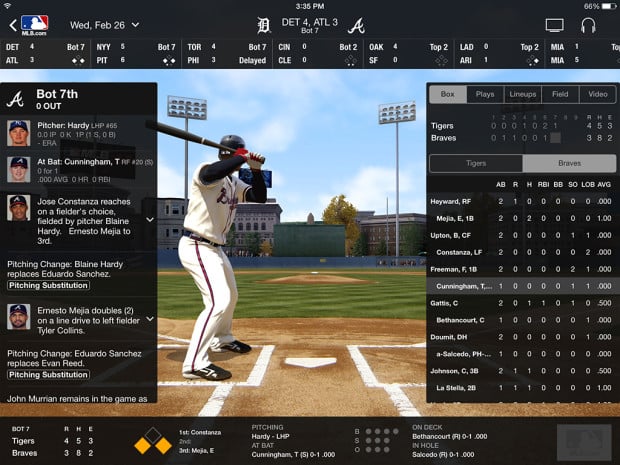 The app is a free download on iOS, Android, Windows Phone and BlackBerry, but you'll have to pay a one-time fee of $3.99 to watch the rest of the World Series. You'll also get access to all sorts of stats, highlights, replays and more.
Perhaps the best part, like MLB.TV, there won't be any blackout restrictions for the World Series. Usually you'd be out of luck if you lived near one of the teams that was playing, but this is a good sign that the MLB has lifted blackout restrictions altogether just for the World Series. Again, though, you'll need to be a cable subscriber.

This article may contain affiliate links. Click here for more details.