This is the ultimate gift guide for mobile technology. Below you'll find our top gift picks for just about anyone for any budget.
From smartphones and tablets to accessories and gaming, you'll find our top picks for the 2014 holiday season. From $9 services and accessories that you can buy anyone, to bigger gifts like a phone or a new laptop that will last years.
Below you'll find the gadgets and gear we want most from this holiday season. Whether you are shopping for gifts, or just looking for a way to find something you want this year, you're in the right place.
iPhone & Android Gift Guide
iPhone 6 – $199 and up
The iPhone 6 is Apple's latest smartphone and it comes with a large 4.7-inch display, excellent camera, Touch ID, faster processor and more. It's not as large as the iPhone 6 Plus and its thin design is actually thinner than last year's iPhone 5s. Apple's iPhone 6 is available on AT&T, T-Mobile, Sprint, Verizon, US Cellular and other carriers starting at $199 for 16GB of storage.
Read: iPhone 6 Review
We think the iPhone 6 is the best iPhone for most people and one of the best smartphones that money can buy. Its large Retina Display is fantastic for playing games, watching a movie on a flight or browsing the web. Its camera takes wonderful photos and gorgeous videos. It delivers stunning all day battery life, and its processor ensures high quality multitasking. It's not as big as the iPhone 6 Plus but it's size is going to be perfect for most people. It's a great gift. We highly recommend the 64GB iPhone 6 that is $299 on contract.
LG G3 – $99 to $599
The LG G3 is one of the best smartphones money can buy. The gorgeous 5.5-inch Quad HD display is one of the most impressive features on the LG G3.  Thanks to incredibly slim and buttonless bezels, the LG G3 is easier to handle, especially with one hand.  Its primary 13.1 MP camera snaps gorgeous pictures, and the front-facing camera has a couple of neat tricks for taking nice selfies. LG G3 users can trigger the selfie shutter and countdown timer, making it easier to get a Facebook-ready shot on the first try.
One thing we really like about the LG G3 is that it has a more mature treatment user interface compared to Samsung's. Instead of packing the LG G3 with as many features as they could, LG's designers clearly focused on the features that truly matter: display quality, camera quality and usability. Read our LG G3 review to read more about the LG G3 and why it won a GottaBeMobile Editors' Choice Award.
iPhone 6 Plus – $299 and up
The iPhone 6 Plus is Apple's newest, big smartphone with a 5.5-inch 1080P display, impressive camera and more storage options at better prices. A new all metal design delivers a thinner size than the iPhone 5s, but it's still a big phone. The iPhone 6 Plus is available on AT&T, T-Mobile, Sprint, Verizon, US Cellular and other carriers starting at $299 for 16GB of storage.
Read: iPhone 6 Plus Review
We love the iPhone 6 Plus for the big, beautiful display that makes it easier to watch sports and movies without hauling an iPad around, a camera that delivers great looking photos, long battery life and better speakers. The iPhone 6 Plus may be too large for some users, but overall it's an impressive smartphone and a great gift. We recommend the 64GB iPhone 6 Plus that is $399 on contract, as it offers more storage that many users will need.
Buy the iPhone 6 Plus from Apple
Samsung Galaxy S5 – $199 and up
Released earlier this year, Samsung's Galaxy S5 is still one of the best smartphone options in 2014, and would make an excellent gift this holiday season. Offering a large 5.1-inch 1080p HD display, an impressive 16 megapixel camera, not to mention being water-resistant, it's a complete package. The Galaxy S5 is available on all major carriers in the United States, as well as many pre-paid options as well.
Read: Galaxy S5 Review
The Galaxy S5 remains one of the main phones we recommend to friends and family, as it has everything most buyers need in a smartphone. Add in a fingerprint scanner for enhanced security, a heart rate monitor, and one of the best displays on the market, it's hard to argue with the Galaxy S5. It's available for $199 with a 2-year contract from most carriers, and can also be purchased outright from Amazon, and many retailers like Best Buy.
Moto G2 – $179
Building on the success of last year's model, the new Moto G (2nd Generation) released in late 2014 is the best budget smartphone available. It offers nearly everything premium handsets do, only at a much lower price point. You shouldn't have to spend a lot of money to get the perfect smartphone these holidays, and that's why the Moto G makes our list.
Read: Moto G 2014 Hands-on
The new Moto G delivers a large 5-inch 720p HD display, a quad-core processor, the latest version of Android, and even stereo dual front facing speakers all for only $179, no contract required. Add in an 8 megpaixel camera, micro-SD slot to expand storage, and good battery life, and there's no better option for such a low price. You can even choose from 8 different custom colors to replace the standard white or black back.
Tablet Gift Guide
iPad Air 2 – $499 and up
The iPad Air 2 is thinner, lighter and faster than the iPad Air and it includes Touch ID and a better price for more storage. There's not as much reason to upgrade to this from an iPad Air, but if you are looking for your first iPad or to upgrade from an older iPad 2 or iPad 3, it is a top choice.
You could also go with the iPad Air and save $100, but you'll give up the thinner design, faster processor and at least a year of software updates as well as Touch ID support. At the end of the day, it depends what is most important to you. The 64GB iPad Air 2 is the best option for most users with the latest technology and enough storage for the average user.
iPad Mini 2 – $399
While the iPad mini 3 is the latest and greatest iPad mini on the market, its cost doesn't justify its features, especially compared to the older model. The iPad mini 2 actually is exactly the same as the iPad mini 3, except for the Touch ID fingerprint sensor and the gold color option, but it's a whole $100 cheaper.
The iPad mini 2 is priced starting at just $299 for the 16GB and $349 for the 32GB model, making it a no-brainer Christmas gift for the special tech enthusiast in your life.
Google Nexus 9 Tablet – $399
In October Google announced its latest Android tablet, the HTC-made Nexus 9 running its latest software release, Android 5.0 Lollipop. It delivers a fresh and lively new look and feel to the Android operating system, stunning performance, and is displayed on a premium top-tier new Android tablet.
Read: Nexus 9 Hands-on & First Impressions
The Nexus 9 features an 8.9-inch 2048 x 1536 Quad-HD display, and sits nicely between the iPad Air 2 and iPad Mini in terms of size. Add in a powerful 64-bit processor, an 8 megapixel OIS camera, and dual front facing boomsound speakers, and you have the ultimate Android tablet for work or play. It was just released November 3rd and starts at $399 for the 16GB model, and $479 for the 32GB configuration. This is Google's latest hardware and software release, and the perfect Android tablet this holiday season.
Kindle Fire HDX 7 – $179
Amazon's new Kindle Fire HDX is an excellent gift and tablet under $200. Priced at a wallet friendly $179 while offering an excellent overall package, this is perfect for teens or family that needs a new electronic and couch mate. The 7-inch screen has a 1920 x 1080p full HD resolution, and streaming Netflix movies or playing games is a breeze with the quad-core processor inside.
With free 24/7 365 days a year live video tech support with Amazon Mayday, you'll never have to worry that this gift will be too complicated for friends, family, or a loved one. Amazon's tablets are more geared for play with movies, music, video streaming, and reading, but can do everything else other tablets get to enjoy. It's a good price and the perfect portable size, especially if the bigger and more expensive Nexus 9 is out of reach.
Kindle Fire HD 6 – $99 and up
Amazon's Kindle Fire HD 6 is the company's cheapest Kindle Fire tablet. But don't let its price fool you, it comes with an array of high quality specs, including a beautiful 6-inch HD display, front and rear cameras, a quad-core processor that can handle multitasking and gaming, tons of color options, Dolby Audio, and Amazon's software that heavily ties in with the company's ecosystem.
The Kindle Fire HD 6 is one of the best cheap tablets on the market and it's perfect for someone that doesn't need a full sized slate or all of the bells and whistles that come with some of the more expensive tablets on the market. This is not an iPad, but it's much better than tablets that you find at many retailers, including Walgreens. If you're looking for a budget tablet, the Kindle Fire HD 6 makes a great gift.
Buy Kindle Fire HD 6 at Amazon
Kindle Paperwhite – $119
The Kindle Paperwhite is an eReader with a built in light that makes it just as easy to read in bed as it is to read in the bright afternoon sun. Amazon just announced the Kindle Voyager, which is $80 more for a higher resolution screen, sensor that can adjust the light based on how bright it is. This is a worthy upgrade if you can afford it, but at $119 the Kindle Paperwhite is an excellent eReader. At this price you get a 6-inch e-Ink display and WiFi connectivity as well as ads that Amazon calls "special offers" on the lock screen.
The Kindle Paperwhite with special offers and WiFi is an amazing way to read eBooks. Even with an iPad, iPad mini and a smartphone around, the Paperwhite is better for reading. The screen is easier to look at for long periods and there is no way to get interrupted by notifications and other distractions, like on phones and tablets.
Buy Kindle Paperwhite at Amazon
Laptops & Notebooks Gift Guide
MacBook Pro Retina – $1,299 and up
Shoppers can buy a MacBook Pro Retina with a 13-inch or a 15-inch display. The 13-inch MacBook Pro Retina is a nice mix of power and portability with all day battery life for most users. On both of these Apple notebooks users get a bright, high-resolution display that looks wonderful. You can even install Windows on a MacBook Pro Retina if you need access to Windows Apps. The 13-inch Macbook Pro with Retina includes a 2,560 x 1,600 resolution and the 15-inch model a 2,880 x 1,800 resolution.
Read: MacBook Pro Retina Review
We like the portability and power that the 13-inch Macbook Pro Retina provides. The battery lasts all day for basic tasks, and when we need more power to edit video or work on photo projects this notebook is able to handle all of those needs as well. It also connects to a 4K display at home and with accessories to be the only computer you need.
ThinkPad Carbon X1 – $1,061 and up
The Lenovo ThinkPad Carbon X1 is a business notebook that includes an amazing touch screen display with a 2,560 x 1,440 resolution and there is an an adaptive keyboard that changes based on what you are doing. The X1 Carbon battery life lasts about seven hours and can charge to 80% capacity in an hour.
Read: ThinkPad X1 Carbon 2104 Review
This is a thin and light business notebook, but you don't need to gift this to an office dweller for it to be appreciated. We love the keyboard and the incredible display. Although it's not matte, the screen works well in bright light and overall it looks wonderful.
Buy the ThinkPad Carbon X1 from Lenovo
HP Stream 11 Laptop – $199
Not so long ago, the idea of a Windows laptop that cost just $199.99 was a pipe dream. Sure, there was that netbook craze from last decade, but people quickly realized those weren't exactly a solution for every task. Microsoft and its partners are at it again and the HP Stream 11 is the result.
Inside the HP Stream 11 is an 11-inch screen with 2GB of RAM, 32GB of storage and the Windows 8.1 operating system. The entire package is held together by a very bright blue or pink body with web cam, touchpad, keyboard and a few USB ports. The HP Stream 11 is compelling at $199, but Microsoft has made it even more enticing by giving buyers a year of Office 365 Personal with the notebook free of charge. Normally, buyers would be stuck paying $6.99 a month for that.
Buy the HP Stream 11 Laptop from Amazon
Dell Inspiron 14 – $599 & Up
The Dell Inspiron 14 is a full-size laptop with all the privileges that entails. A spacious 14-inch LED widescreen display with touch is what ties the machine together. Inside is a very robust Intel Core i3 Processor and 4GB of RAM. Connection options include two USB 3.0 ports, a single security slot, an Ethernet port, HDMI out and a media clot slot. Windows 8.1 is included on the machine, so it is infinitely more touch-friendly than laptops used to be.
The Dell Inspiron 14 is perfect for anyone looking for a PC that has some power to offer. It's not perfect for gaming thanks to its integrated graphics, but it'll handle everything else just fine.
Gaming gift Guide
PS4 $399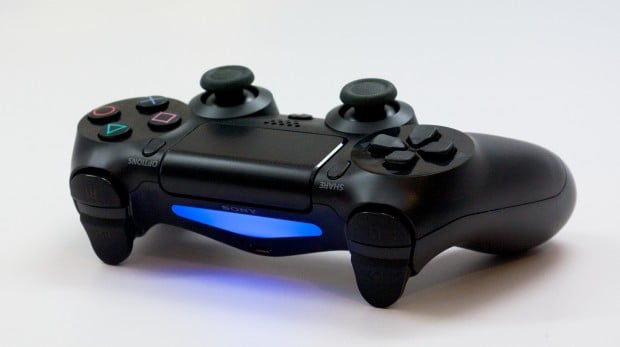 It's tough to decide between the Xbox One and PS4, and we'd say it entirely depends on the person as far as which one they'd prefer, but you really can't go wrong with Sony's PS4 as hot Christmas gift.
The included DualShock 4 controller has improved greatly over previous versions and the console itself is a lot smaller than the Xbox One, making it a good choice for those who don't have a lot of room in their home theater setup.
You can grab a PS4 for $399, and it also wouldn't hurt to gift a couple extra controllers so that friends can play along.
Xbox One – $349 & Up
Microsoft spent most of last year justifying why its Xbox One console existed. The company then spent the majority of 2014 making it the console to have. The Xbox One we have today is every bit the competitive juggernaut that we'd hoped Microsoft was delivering last year.
Inside every $349 bundle are the things players need to get gaming.  There's a wireless controller, an HDMI cable, a power adapter — and more importantly, a free game.  A few months ago Microsoft only offered free copies of Titanfall and Forza 5. Today, there are Xbox Ones that include Assassin's Creed Unity & Assassin's Creed 4: Black Flag. Another has Sunset Overdrive and yet another includes a custom paint job, 1TB of storage and Call of Duty Advanced Warfare.
Microsoft still produces and continues to add features to the Kinect 2 sensor that lets casual gamers play motion games like Kinect Sports Rivals and control their television for the system's live television integration. That bundle starts at $449.
Read: Xbox One Review – My Experience Six Months Later
Microsoft's Xbox One console can be purchased at GameStop, Microsoft, Target, Best Buy and Wal-Mart. Buying it at one of those locations doesn't get users any extras, but GameStop does allow users to trade-in their older games and electronics for credit towards a new Xbox One. We recommend those with families go all out for the Xbox One with Kinect 2 sensor and a game for $449. You can't go wrong with the $349 version either, though. That's the one Microsoft lets buyers pick up with out the Kinect Sensor. It can be purchased later for $150.
Buy the Xbox One from Microsoft
Polk 4 Shot Headphones – $99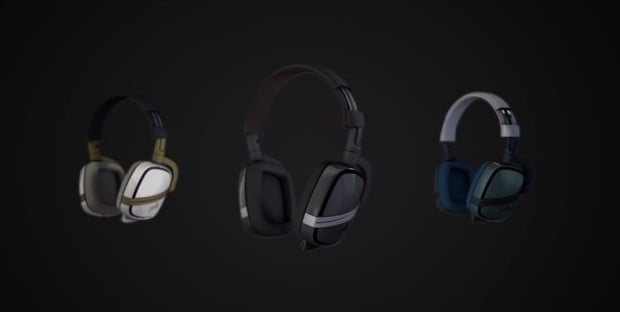 Microsoft makes its own wireless headset for the Xbox One, but the Polk Audio 4 Shot headphones offers better noise isolation. In fact, they're so good and so comfortable that you'll want to immediately think about purchasing a pair for your Xbox One before you choose which bundle to buy.
The Polk Audio 4 Shot headphones include a boom microphone and two speaker copes that go on either ear. Insulation around each speaker cup helps hold shout in and keep ambient noise out. It's connected to the Xbox One wireless controller with an included adapter, but buyers can ditch their Xbox One entirely and use the 4 Shot headphones on their smartphone, PC or tablet too.
Buy the Polk 4 Shot Xbox One headphones from Microsoft
Xbox Live & PS4 – Starting at $49.99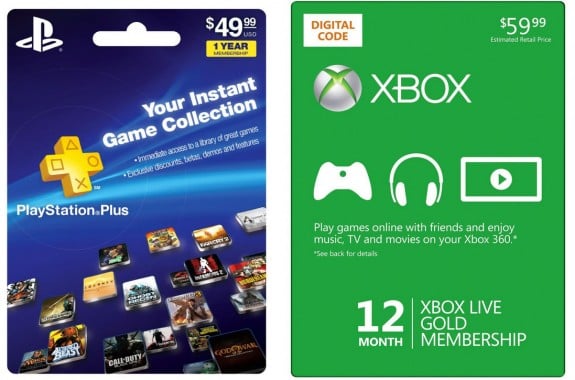 Both the PS4 and the Xbox One allow buyers to play games online. Think of it as a digital living room couch, a way for anyone and everyone to play with their friends and family no matter where they are. The only catch is that you need an Xbox Live Gold or PlayStation Plus subscription to take advantage of either.
A subscription to PlayStation Plus costs $49.99 a year from GameStop. Users who pay for the service get access to a ton of free games each month on all of Sony's platforms.
Xbox Live costs $60 from GameStop. Subscribers also get access to a selection of free Xbox One games. They also get exclusive discounts on other Xbox One games.
Buy a Year of PlayStation Plus from Amazon — Buy a Year of Xbox Live from Amazon
PS4 & Xbox One Skins – $29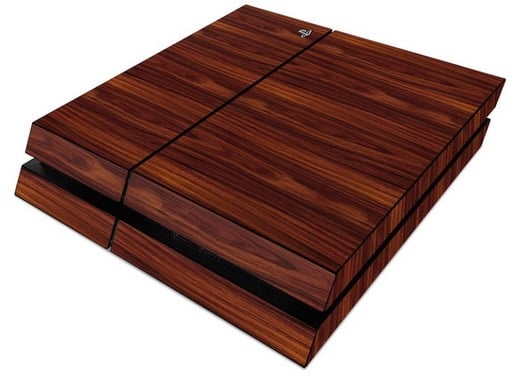 This is also a rather unorthodox Christmas gift, but if someone you know already has a PS4 or Xbox One console, then it can be your duty to breathe some new life into the design of the console box by gifting them a skin. DecalGirl is arguably the best place to find an assortment of cool skins for the PS4 and Xbox One.
Plus, most of the skins they sell are priced at a reasonable $29, making it an awesome Christmas gift without breaking the bank, while also livening up their home entertainment setup with a new game console look.
Accessories & Services Gift Guide
Plantronics BackBeat Pro – $249
The Plantronics BackBeat Pro headphones are a steal at $249 with good design, noise canceling and Bluetooth connectivity so you can use them without wires. These headphones can block out annoying noises and the battery lasts for 24 hours of wireless use, which means you aren't hunting for a charging cable every day like with many other Bluetooth headphones.
Read: Plantronics BackBeat Pro Review
We enjoyed the overall sound quality of these affordable Bluetooth headphones and active noise canceling made flights much easier to handle. The noise canceling isn't quite as good as Bose, but it's definitely useful. Some bass can overpower the headphones, but for 99% of the music we listened to the sound was spot on.
Buy Plantronics BackBeat Pro at Amazon
Personalized iPhone Case – $15 and up
A personalized iPhone case lets you put a favorite photos on the back of an iPhone case for any of the iPhones available. This hard case protects the iPhone 6 like any other hard case, but instead of a big logo or fancy print, you can put your dog, kid or sweetheart on it.
There are many places to buy personalized iPhone cases, but we've enjoyed the quality from Nuvago, formerly Gelaskins, which matches colors really well and offers affordable prices at $15 and up.
Buy a Personalized iPhone case at Nuvago
SCOTTeVest Fleece 7.0 – $160
The SCOTTeVest Fleece 7.0 features 23 pockets that keep all of your gadgets and gear organized. There are places to carry phones, an iPad and even a spot to put a MacBook Air if you need to carry one with you. The SCOTTeVest clothing includes a personal area network, which is a fancy way of saying you can run charging cables and headphones through the jacket so you can charge and communicate without wires all over your body. The sleeves zip off if you need something a little lighter.
Read: SCOTTeVEST Fleece 7.0 Review
We use the SCOTTeVest Fleece 7.0 every year at CES to cover the show and carry gear, but that's not the only time we use it. The pockets and design deliver a convenient way to carry everything we need on a day to day basis. The Fleece 7.0 is one of our go to jackets and is warm enough to get through fall in the midwest, before we need to switch to something heavier like the Revolution Plus jacket.
Buy SCOTTeVest Fleece 7.0 at SCOTTeVest
Microsoft Wireless Display Adapter – $59.95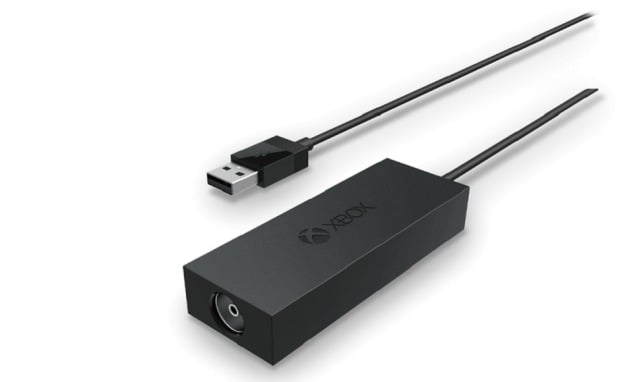 Google's Chromecast adapter proved that there was a market for small set-top boxes that connect with user's smartphones to stream audio and video. The Microsoft Wireless Adapter does what the Chromecast does, but it is built on top of Miracast, making it infinitely compatible with the dozens of devices that already support the Miracast streaming. Simply plugging the device into your television lets you show an entire room what's on your Windows Phone or laptop and tablet running Windows 8.1. The Microsoft Wireless Display Adapter works with Android too.
You can buy the Microsoft Wireless Display Adapter from Microsoft's retail stores and the Microsoft Store website. It's not yet available at major retailers.
Buy the Microsoft Wireless Display Adapter from Microsoft
Netflix – $8.99
No matter what smartphone, tablet, TV or device you're using these days, Netflix is probably an option you can download or install. For only $8.99 a month you'll have unlimited movie and TV show streaming to any device in the house.
By now Netflix is a household name and needs no introduction, and they even have a $7.99 SD-streaming option for those who aren't using a fancy new HDTV or the latest gadget. Netflix will let you enjoy thousands of movies, TV series, and acclaimed Netflix original series like House of Cards and Orange is the New Black. The price went up a dollar in 2014, and could do the same in 2015, so get it now while it's still only $8.99 a month.
Amazon Fire TV – $84/$124 with Game Controller
The Amazon Fire TV streams Amazon Instant Video content, Netflix and more to your TV. It comes with a small controller with voice recognition built-in so users can do natural language searches like "Find movies with Dustin Hoffman." Add the optional Game Controller and it becomes an Android gaming system with some entertaining games. Amazon just dropped the price, making it a great deal.
Read: Kindle Fire TV Review
Unlike the Apple TV, which costs $15 more, the Fire TV runs fast and offers a modern layout, making it easy to get at your games, apps and streaming content. It also lets owners add apps from the Amazon App Store. The optional $39 game controller feels just like an XBOX or PlayStation controller and Amazon offers a few really great games. Make sure to sign up for a $99/year Amazon Prime subscription to get the most out of it. The subscription includes a growing library of movies and TV shows.
Buy the Amazon Fire TV from Amazon with the Controller or Without
Google Chromecast – $35
There's no cheaper or simpler solution for streaming content to a TV or display than the Google Chromecast. The tiny HDMI stick plugs into a computer and gets power from a USB cable hooked up to the TV's USB port, if it has one, or an AC adapter. Install the Chromecast app on either an Android or iOS phone or tablet and get it connected to your local Wi-Fi. Thanks to a recent update it will also connect directly to the phone or tablet without a wireless network in the room. Users can stream content from supported services like Netflix or Hulu. Android device owners can mirror their display for making presentations or playing video games.
Read the Google ChromeCast Review: $35 Apple TV Alternative
This makes a great gift for a few reasons. First, the Google Chromecast doesn't cost very much. It's one of the rare gadgets that the recipient will likely love, but the giver doesn't need to pay too much. Second, the Chromecast doesn't take an engineering degree to hook up and use. Third, the size makes it a very portable solution.
Buy the Google Chromecast at the Google Play Store
Spotify or Pandora One Gift Subscription
Give someone the gift of music with a gift subscription to one of the two most popular streaming music services on the Internet. Here's how Spotify or Pandora works: users sign up for a monthly streaming music subscription to one of these two services. They can listen to all the music they want so long as the songs show up in the service library. Listen on a phone, tablet or computer. Some other devices, like streaming set-top boxes or car stereo systems, include access. Subscribers enjoy more perks than the free service includes like downloading tracks to listen offline, no ads in the stream, access to a larger library of songs and more.
People who buy individual tracks or albums can save a lot of money with these services and enjoy far more music through a subscription. Sometimes the music listeners want doesn't show up in the library, but that's rare. Spotify costs $9.99/month and gift-givers can buy gift cards starting at $10 and going up to $60 for six months of Spotify. Pandora sells gift subscriptions for $30 for a six month subscription.
Get Gift Subscriptions at Spotify or Pandora
iPad Smart Cover – $39
Whether you have a friend or family member who bought a new iPad Air 2 or stuck with the original iPad Air, they'll need something to protect it. Apple's own Smart Cover can do the trick.
While the Smart Cover doesn't protect the body of the iPad, it's a good shield to have that protects against scratches from violating the screen, and it even doubles as a stand.
You can get an iPad Smart Cover on Apple's website for $39 and it comes in a variety of colors to choose from.
Apple TV – $99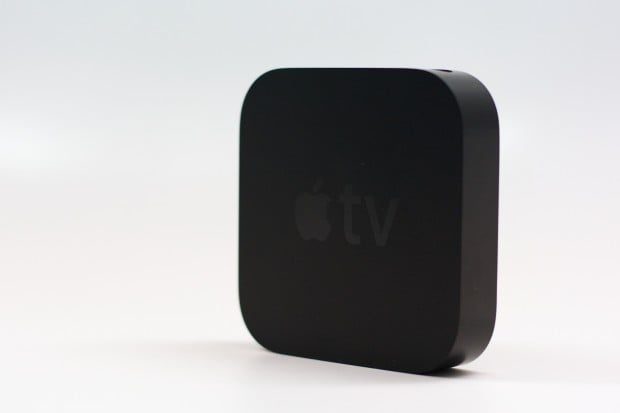 While the Apple TV is a couple years old and in dire need of an update, it's still a pretty solid set-top box that can stream video content from a ton of different services, like Netflix and Hulu Plus. Furthermore, it has apps for pretty much every major sport and most big television networks have their own Apple TV apps that you can use.
You can grab an Apple TV for $99 on Apple's website, but we'd recommend getting a refurbished model for just $75.

As an Amazon Associate I earn from qualifying purchases.