Gigabyte launches "new" convertible, "iPad-like" slate to come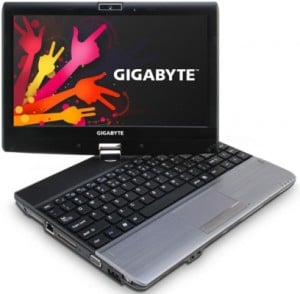 Digitimes reports that Gigabyte is rolling out a new convertible notebook with 11.6-inch touchscreen. But questions arise as to whether it is actually new or a rename. Also, a more "iPad-like" tablet is in the works.
Liliputing picked up the story and immediately noted the supposedly new T1125 sounds suspiciously similar to the M1125 released earlier this year (shown at right), also a convertible with 11.6″ display. I'm not familiar with Gigabyte's naming convention, but I'd guess they are the same basic device aimed at different markets. For example, Toshiba used the same body for both the Satellite R25 and Tecra M7 but different internal configurations to differentiate them for the consumer and business markets, respectively. I'd be surprised and disappointed if it was a straightforward rename.
It was further noted that, in response to downward trending netbook demand, Gigabyte is working on an "iPad-like" tablet for the end of this year or early next. That indicates a slate form factor, but whether they switch to another OS, such as Android, or stick with Windows is unknown.
Update: Got back from lunch to read the comment from my friend Nicole Scott and saw that NetbookNews.com has dug up specs on the T1125, which will be released with two sets of options (basically, under-the-hood differences of processor speed, graphics and storage). They also have a photo of the dock, which can rotate 90 degrees. Pop over for the details.

As an Amazon Associate I earn from qualifying purchases.