GIGABYTE ON/OFF Charge brings the juice for iPad and more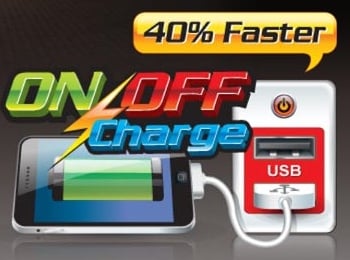 With iPad users learning their standard PC USB ports can't quite meet that tablet's thirst  for amperes, GIGABYTE is stepping up to the challenge of powering the latest gadgets with their ON/OFF Charge system, which, as the name suggests, works whether your PC is on or off.
Nicole at Netbooknews.com has a video comparison and demonstration of the new motherboard system pitted against the current standard, a mere half amp. A half amp is fine for most gadgets, but bigger devices like the iPad and its competition to follow require more juice for charging. Even the iPhone requires a full amp for fast charging. GIGABYTE ON/OFF Charge manages to push a little more than that when the PC is on and just under when it's off.
Hope to see this type of functionality become a standard soon, not just a premium feature as we have in some notebooks. And also see the amperes bumped up to two, which the iPad needs for fast charging. Hungrier USB-powered devices are upon us.

This article may contain affiliate links. Click here for more details.