GigaByte Unveils New Touch Screen Tablets at CeBIT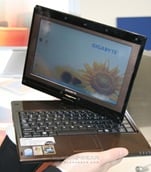 CeBIT is seeing some interesting mobile releases this year. GigaByte is unveiling what they are calling the Touch Note M1028, which is a touch screen Tablet running an Atom N280 processor at 1.66GHz. It also comes with a 160GB hard drive. There are four flavors of the M1028:
The M1028M and the M1028G feature a 1024 x 600 display, and the G features a 3.5G WiMAX card.
The M1028X and the M1028P feature a 1366 x 768 display. The P is running the GN40 chipset capable of HD.
The usual array of ports (USB, Express Card) and of course the now standard two different battery options round out the picture. No pricing details yet, or which (if any) of these models will make it to the US.
All flavors come with Windows XP, and that makes me wonder about new Netbooks and mobiles we're starting to see. Keep in mind that Windows 7 doesn't have an upgrade path from XP (at least at the moment), so if we're seeing touch capable devices (I don't think these new GigaByte models multi-touch capable but may be wrong), that might figure into purchase decisions.
Via Slashgear (where there are more pictures.)

As an Amazon Associate I earn from qualifying purchases.