Gingerbread for Motorola Atrix 4G and Droid X2 Coming Soon
Own a Motorola Atrix 4G or a Motorola Droid X2? Well, then you'll be happy to know that Gingerbread is likely going to start rolling out soon for both Motorola smartphones as a soak test is definitely about to happen for the Atrix 4G and is likely going to begin soon for the Droid X2.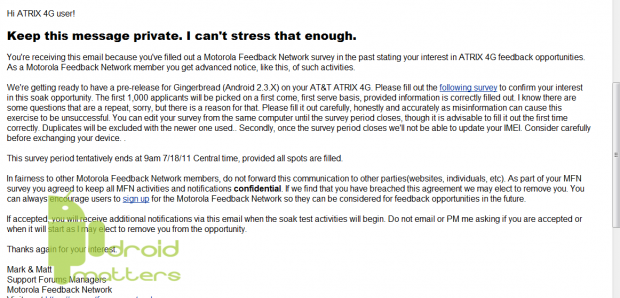 For those of you unfamiliar with the term 'soak test', it essentially means that AT&T, Verizon and Motorola are going to be using some users as guinea pigs to make sure the update is suitable for a mass roll out. That being said, it appears that owners of both phones are being recruited for testing and if everything goes smoothly, we should see official roll outs soon.
There is a chance that the 'soak test' for the Droid X2 isn't for Gingerbread as Motorola doesn't specifically refer to it but I'd be shocked if this wasn't for the bump up to Android 2.3. Why would they need several thousand testers if it wasn't a major upgrade?
So, now that we know the updates are coming, let's just hope that they turn out better than the Gingerbread update did for the original Motorola Droid X.