Gingerbread for Samsung Droid Charge Rolling Out November 29th?
We had heard that the Gingerbread update for the Samsung Droid Charge was imminent and it appears that we may have a date. That date, which comes from an internal document released by Droid-Life, points to tomorrow November 29th as being the date that Verizon plans on rolling out the software to owners of the 4G LTE smartphone.
This is certainly welcoming news for those that bought the Droid Charge months ago when it became one of Big Red's first 4G LTE smartphones alongside the HTC ThunderBolt and the LG Revolution.
Per usual, there will be quite a few things besides Gingerbread itself rolling out with the software.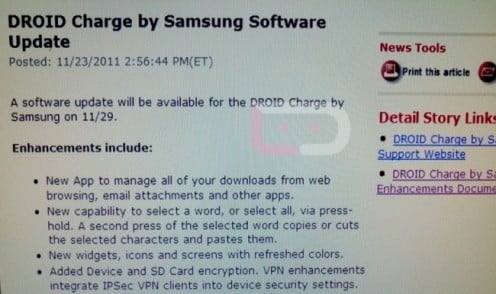 They include a new app that can manage downloads from web browsing, email attachments and apps, new widgets, refreshed colors, better security, and more. All in all, not bad for an update that figures to be around 119MB in size.
Be on the look out for it as soon as tonight, that is, if everything has gone according to plan on Verizon's end.

As an Amazon Associate I earn from qualifying purchases.